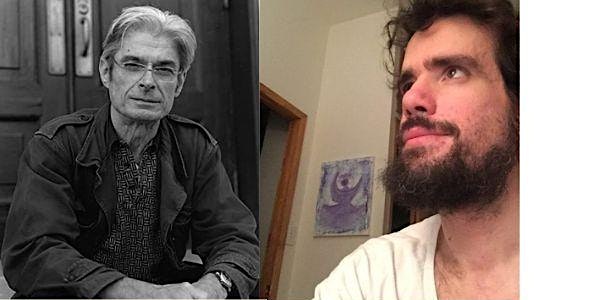 John Godfrey and Filip Marinovich Reading and Conversation
Join us for an afternoon of poetry reading and conversation. There will be a Q&A portion as well!
When and where
Location
Torn Page 435 West 22nd Street New York, NY 10011
About this event
Bios:
John Godfrey has been things and seen places. He reads French to stay alive. His most recent collections are The City Keeps: New and selected poems 1966-2014 (Wave Books, 2016) and A Torch for Orphans (Cuneiform Press, 2020). He'll be making a new manuscript when 2023 begins, it's primary season all over again!
Filip Marinovich (aka Wolfman Librarian) is a Serbian-American lycanthropic queer poet and dramatist living and working in and out of New York since 1993. He just returned from a 2.5 year stint as a caregiver for his father (dementia) and his mother (addiction) in Old Lyme, CT, an extended pandemic Odyssean epic. He taught his Zoom Motley poetry workshop twice a week that entire time. He has published four full length poetry books : Zero Readership, And If You Don't Go Crazy I'll Meet You Here Tomorrow, Wolfman Librarian, and The Suitcase Tree. Filip has taught his unique poetry seminars at Columbia University, where he BA'd and MFAced, and at the Poetry Project at St Mark's Church ("Candor Practice 2011" and "Reading Poets by Sunsign 2013"), and at Wendy's Subway, ("Whitman the Gemini Spring 2015"). In fall 2011 he worked as one of the librarians of the People's Library at Occupy Wall Street and helped compile the Occupy Wall Street Poetry Anthology. Since fall 2015 Wolfman Librarian has taught at Torn Page "Queering Poets by Sunsign", and now "Shakespearean Motley College", a patched cape sewn together with red thread wine. A new book of post-quar era poems is forthcoming from 1080 Press. Filip is very happy to return to New York comradery among fellow queers and outcasts and poets that make up a true extended family voices tree. Peace !