Let's ROCK Virginia! Join JOHN & ANNE FREDERICKS and guests for a dynamic evening of ACTION to win back Virginia!
About this event
Join JOHN & ANNE FREDERICKS and guests for a dynamic evening of ACTION to win back Virginia with emcee, Martha Boneta!
Get fired up! Meet candidates! Have cocktails and mingle with fellow Patriots. Hear from a star-studded line-up of speakers and learn how you can help with campaigns!
Doors open at 3:30 PM for a live broadcast of Outside the Beltway and War Room TV shows! Be part of the live audience action!
Location: Atlas 42, 4032 Cox Rd. Ste A, Glen Allen, VA 23060
Date: Wednesday, Oct. 13, 2021, from 6-9 PM
Doors open at 3:30 PM
Tickets: $40 online and $50 at the door
Enjoy the best food ever and a cash bar. Attire is business casual.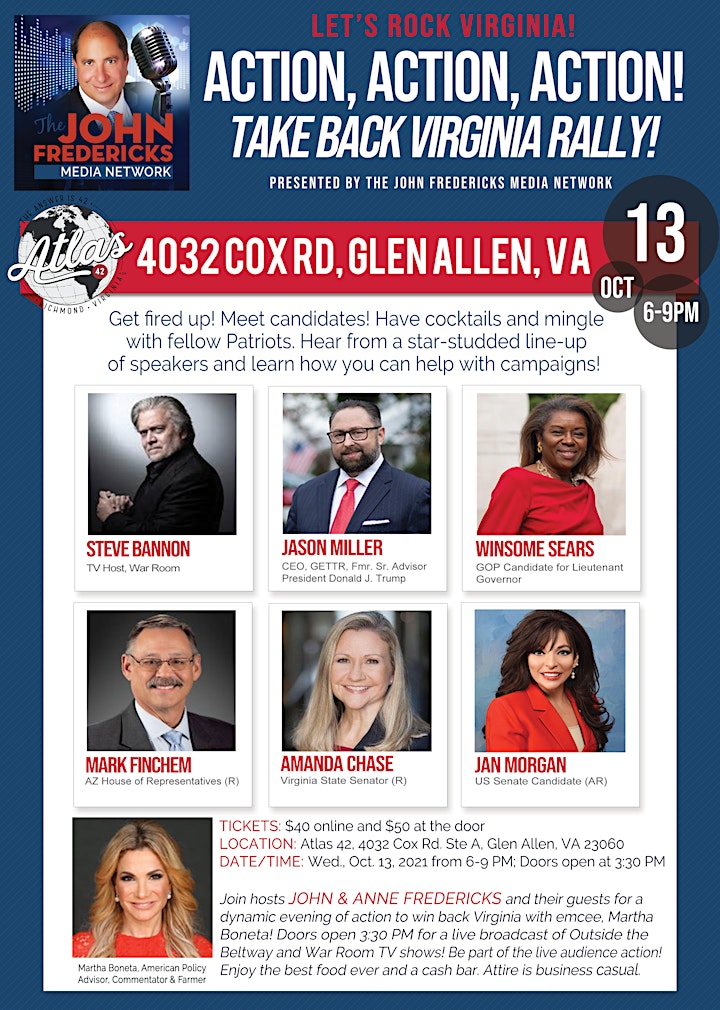 Hotel Information - We have a room block and special rate at the Marriott Short Pump
4240 Dominion Blvd, Glen Allen, VA 23060
Please email veronica@jfrshow.com for help making a reservation.
Organizer of John Fredericks Media Network Presents ACTION, ACTION, ACTION!
John Fredericks served as Virginia Chairman of the Trump for President campaign in 2016 and is currently an Advisory Board member of Trump/Pence 2020. A senior media executive with over 40 years experience, Fredericks has served as a major market newspaper publisher, advertising director, editor, editorial page editor, TV host, syndicated radio host, commentator and newspaper columnist. He has covered national news events that include government, business, economics, and politics.
Fredericks was the first media personality in America to endorse Donald J. Trump for President in June 2015 and correctly predict both his nomination and his general election victory. He was elected National Delegate to the 2016 Republican convention from Virginia's 4th Congressional District.
John is also a White House Correspondent and Cable News Network Contributor.