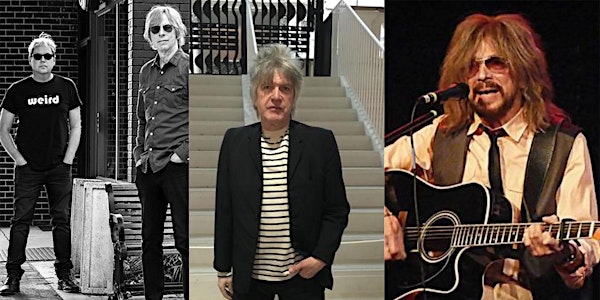 John Ford, Edward Rogers & Smash Palace Acoustic w/ special host, May Pang
Record Release Extravaganza:
Location
The Cutting Room
44 E 32nd St.
New York, NY 10016
Come celebrate the release of three new albums from John Ford, Edward Rogers, and Smash Palace with Special Host, May Pang!
About this event
7:00 p.m. Smash Palace Acoustic Celebrate '21'
Smash Palace returns with their 13th album, " 21" with 10 rock n roll songs designed to be the soundtrack for the summer of 2021. This is Smash Palace doing what they do best: 60's jangle rock, 70's rock swagger, 80's power pop, 90's Brit rock all rolled into a contemporary style that's all their own. It's like listening to songs you know but haven't heard before. Smash Palace members Stephen Butler and Cliff Hillis will be doing a special acoustic set tonight.
https://www.smashpalacemusic.com/
8:00 p.m. Edward Rogers Celebrates 'Catch A Cloud' with Full Band and Special Guests
British-born, NYC-based prolific singer-songwriter Edward Rogers releases his eighth solo album, Catch A Cloud, which is a soul-searching, stripped-down personal statement, a trippy swirl of music and ideas, observations of what was going on around Rogers at the time, which influenced both the music and the lyrics of the songs. Edward's band tonight consists of several of the legendary musicians who appear on the album, including producer Don Piper, James Mastro, Sal Maida, and Konrad Meissner. Expect some special guests, too!
http://www.edwardrogersmusic.com/
9:00 p.m. John Ford Celebrates 'Life In A Foreign Town' with Full Band
John Ford's eleventh solo album, 'Life In A Foreign Town' featuring twelve new songs, including "All Locked Down" was recorded during the pandemic. John Ford was a member of The Strawbs on four of their biggest albums and on the latest 2021 release 'Settlement.' He is also a founding member of Hudson Ford and Elmer Gentry's Velvet Opera. For this show, John will be playing with a full band (John Ford Jr., John Cardone, Ritchie Shapiro).