Description
Hello Classmates!
Can you believe it has been 10 years since we tossed our caps at the Constitution Hall, in Washington DC!
Please come join us in celebrating our 10 year reunion at Bar Louie, in Rockville! It will be great to see what everyone has been up to within the past 10 years and reminisce about great KDY memories.
Here are some important notes about the event:
AGE: This event is 21+, no children are permitted.

ATTIRE: This event is casual, dress how you want!

WHATS INCLUDED: Your ticket covers: venue expense, small entrees and amenties( activities, class favors, decor). Additional food and alcoholic drinks will be available on site at your own cost. Your ticket covers entry of ONE person. If you have a plus one you must purchase a ticket for them too.

TIME: It's recommended that you arrive on time at 6pm

LOCATION: Bar Louie in Rockville

IMPORTANT: ALL SALES ARE FINAL! THERE WILL BE NO REFUNDS OR EXCHANGES. IF YOU PURCHASE A TICKET AND END UP NOT BEING ABLE TO ATTEND, IT WILL BE YOUR RESPONSIBILITY TO RESELL YOUR TICKET. OTHERWISE - CONSIDER IT A DONATION.
---
Share your 07 Memories and What you've been up to: There will be a PowerPoint presentation displayed throughout the event. If you would like to have a slide in the presentation, please create one slide that has pictures of you and friends from high school and/or another slide that has the following bullets:
Photograph ( high school or present)
What you are currently doing
Where you currently reside
If you are married or have kids (OPTIONAL and include pictures)
Favorite song from 2007
Please see the sample slide below and email your slide to Dominiquewright25@gmail.com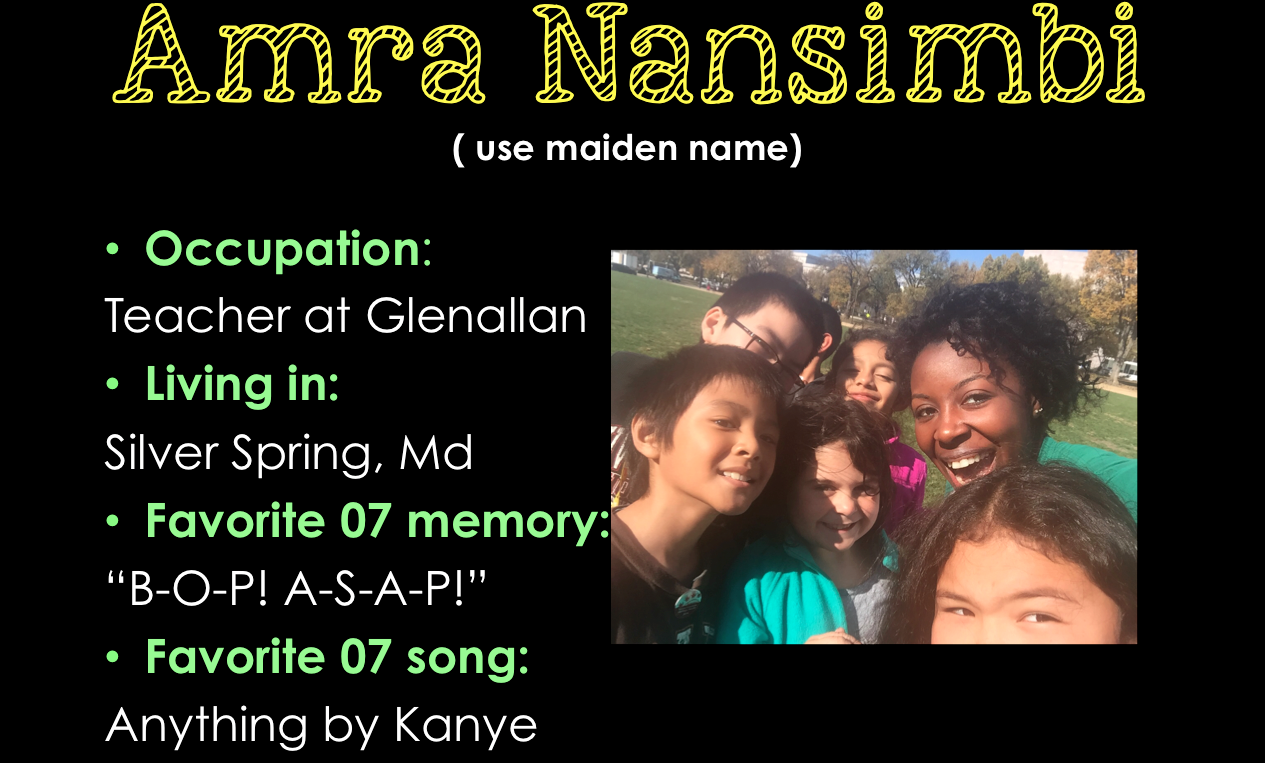 We look forward to spending a wonderful evening with all of you!!
-Dominique, Amra, Tia & Jessie your 2007 Class Officers
Date and Time
Location
Refund Policy