About this Event
Renowned for his eloquent Americana style, engaging live shows, and off-the-cuff clever observations, John Craigie carries on the legacy of classic singer-songwriters, while blazing a trail of his own.
Recently, that trail twisted and turned into new territory for the Portland, OR performer who The Stranger appropriately dubbed, "the lovechild of John Prine and Mitch Hedberg." His music speaks loud to both audiences and fellow artists. Todd Snider notably hand-delivered a gift on-stage, and Chuck Norris has sent fan mail. His fifth full-length album, No Rain, No Rose boasted two collaborations with Gregory Alan Isakov, namely "I Am California" and "Highway Blood." Both quickly cracked One Million Spotify streams and counting, as his knack for a captivating narrative and rustic aural palettes powered the 13-track offering together.
"It's about transparency," he explains. "The storytelling enables listeners to relate. Really good music doesn't make you feel good; it makes you feel like you're not alone."
As No Rain, No Rose landed, he caught the attention of none other than Jack Johnson. Through a serendipitous series of events, Craigie's 2016 live effort Capricorn in Retrograde… Just Kidding… Live in Portland landed in Johnson's car stereo during a California coastal road trip.
Shortly after, Jack reached out and Craigie soon found himself onstage for 12 shows during Johnson's 2017 summer tour including performances at The Greek Theatre in Berkeley, California and The Gorge in Washington state. Along the way, he earned acclaim from SF Weekly, Seattle Times, AXS, and more. Festival appearances also include Ohana Music Festival (CA), Mountain jam (NY), SXSW (TX), Electric Forest (MI), Summer Camp (IL), Kate Wolf Music Festival (CA), Pickathon (OR), Edmonton Folk Festival (AB), Kerrville Folk Festival (TX), Wanderlust (CA & VT), High Sierra Music Festival (CA) and more.
When Craigie plays, it's one of those special shows that can make you laugh and cry in the same song. It's a musical journey that can't be denied.
"…the lovechild of John Prine and Mitch Hedberg with a vagabond troubadour edge." – The Stranger
"The record opens with the shanty-like Dylan-meets-Prine number "Virgin Guitar," which displays Craigie's talent for understated singing coupled with poetic lyrics." – The Portland Tribune
"Craigie's latest, "I Am California," is haunting, poetic, and just how a longing for California should sound. Draped in nostalgia and covered in memories, Craigie paints a beautiful homage to the Golden State, with the assistance of singer Gregory Alan Isakov." – Impose Magazine
"You can be sure I'll be on the lookout for anything he does from now on." - No Depression
AGE 21+
GENERAL ADMISSION TICKETS ARE UNASSIGNED SEATING. SEATING IS PLACED ALONG THE PERIMETER OF VENUE. PLEASE SEE VENUE MAP FOR OTHER SEATED TICKET OPTIONS
DOORS 7:00
SHOW 8:00
*All tickets sales are final and non refundable. Tickets are transferable*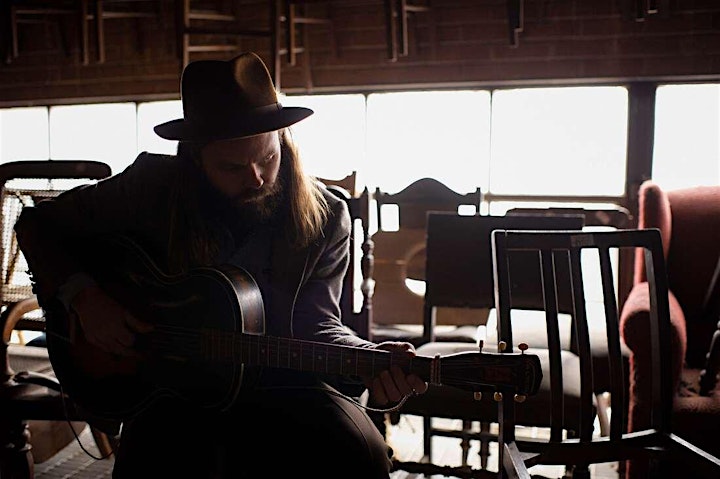 Daniel Young is a singer-songwriter, guitarist, drummer, sound engineer, and producer from Salt Lake City. He grew up on the side of a tall mountain, and that sense of forceful elevation informs all of his work. Daniel's been recording and performing for over two decades—and he's not that old, which tells you much of what you need to know about his commitment to craft, about how deep this runs with him.
I've been personally involved in some of these projects and can testify to the guileless intensity to everything he does, the magic touch and the magic trick. There's no better companion in song. But Daniel does other things. One night I watched him, in harness boots and a pearl-button shirt, hit a steady stream of fastballs off a batting-cage pitching machine; I don't think he'd ever seen pitches that fast, but he never flinched, never lifted a foot, just swung straight through. Those cages are gone now but I'll never forget what that scene taught me about the true of Daniel's instincts. We've played many dozens of rounds of pool—I'll never beat him. Those kind of sneaky skills.
There's nothing sneaky about Television Static. This new record represents the most complete articulation of a vision Daniel's been seeing for many years. Recorded live over two days at his own Orchard Studio, It's full of loss and renewal, shocks of grief and stabs at redemption. Daniel's best work has generally avoided the autobiographical but this time round the doors are off the hinges and the house has spilled its secrets all over the lawn. Musically, the bleary blend of country, rock & roll, and greasy blues is augmented by cosmic Dead-style extended jams, Burrito-worthy grooves, and West Coast melodicism. Like so many before him, Daniel has sought solace in desert places, including a pilgrimage to the Joshua Tree Inn to find the spirit of his idol Gram Parsons. Television Static bears witness of those spaces, those journeys. Go with him, if you can—you may not know it yet but you're probably heading there anyway.
Performers
Date and Time
Location
Refund Policy