| | |
| --- | --- |
| John Coffey Refuses to Save the World | |
Event Details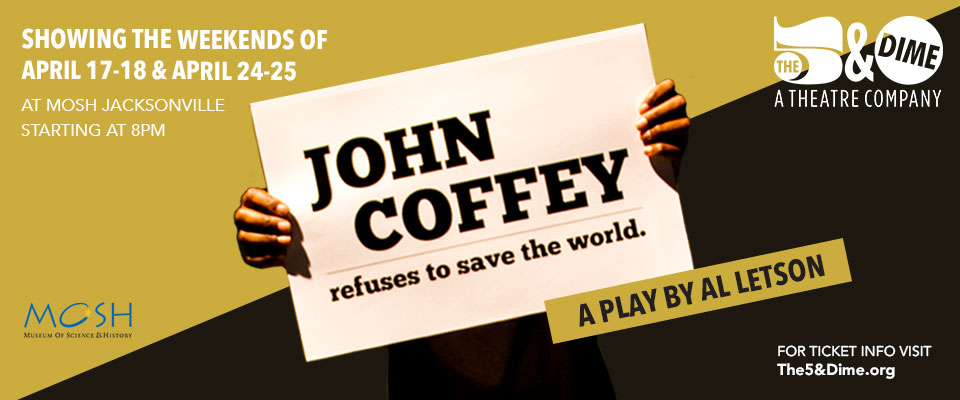 directed by MICHELLE SIMKULET 
 
FRI April 17, SAT April 18, FRI April 24, SAT April 25
All performances at 8PM
Pre-show reception begins at 7PM
MOSH 
(Museum of Science and History)
1025 Museum Circle
Tickets are $20 and may be ordered online up until 6 PM the day of the show.
- - - - - - - - THIS PLAY CONTAINS ADULT LANGUAGE - - - - - - - -
 
John Coffey (the character from the movie 

The Green Mile

) sits in the waiting room with his friends Bagger Vance (

The Legend of Bagger Vance

), Mother Abigail (

The Stand

) and god (From

 

Bruce Almighty

 and 

Evan Almighty

).  The small group patiently waits for someone to watch their movies so they can go off to work.  A new character, Legba, a shady con-man, or saintly gentleman (depending on your point of view), joins the room with answers and a lot of questions.  He tells the characters they are in the Room of Magical Negroes! A Purgatory of a sorts for black fictitious characters waiting to be released into the world. Legba wonders aloud why are they in this room in the first place?  What is their purpose in life?  Why can't they use their magical powers for themselves? These questions begin to eat away at John Coffey as he is ordered to report to

 

The Green Mile

.  In a fit of defiance John refuses to go and thus upsets the balance of the universe. Every story has its place, make believe or true, and if one story doesn't play its part, all of creation is in jeopardy.   John Coffey Refuses to Save the World while he asks the question, are we destined to play the roles we've been cast?


 

 
For more information visit:
When & Where

MOSH (Museum of Science and History)
1025 Museum Circle
Jacksonville, FL 32207


Organizer
The 5 & Dime, A Theatre Company
Making Change In Jacksonville
The 5 & Dime tells stories that engage, inspire, entertain, and challenge audiences, nurturing a rich artistic culture in Jacksonville's Urban Core.
John Coffey Refuses to Save the World