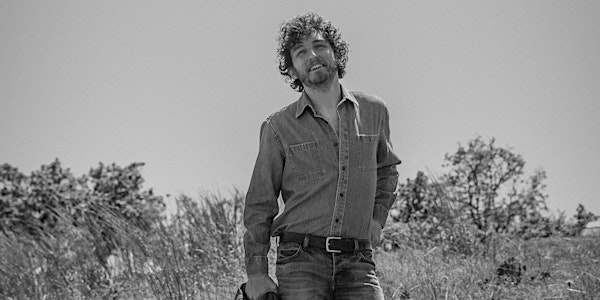 John Calvin Abney + Brett Shady @ Stone Vintage Music Boutique - Sacramento
Performers
John Calvin Abney, Brett Shady
Location
Stone Vintage Music Boutique
324 3rd Street
West Sacramento, CA 95605
John Calvin Abney just released a critically acclaimed new album called 'Safe Passage.' Don't miss his show in Sacramento on November 19th.
About this event
Safe passage, in any case, is a porch light lit, a proverbial lighthouse in the miles of vast darkness, a hope. A hope of making it through, one way or another, without losing yourself or what you hold dear.
On the gentle opener to John Calvin Abney's new album, he draws a line between himself and the expectations of others. The weight of those judgments, wanting to be what others have wanted from him, has always sat heavy on Abney's heart—the depths of which he's plumbed for plenty of albums' past—but here, he's distilled that pressure and perhaps his own past posturing down to the most fundamental human desire.
"I just want to feel good," he sings softly, setting the tone for the cyclical narrative of "Safe Passage," a ten-song exploration of happiness and the self.
Abney is a songwriter, producer, and multi-instrumentalist sideman who's spent nearly 10 years in the studio and on the road in instrumental service to the songs of other writers, including John Moreland, Samantha Crain, and, recently, Lee Bains III and the Glory Fires, along with a veritable swath of writers and musicians that quickly become friends. Recently, he has also spent time scoring short films and documentaries between session and show, and even picked up part time work cleaning and repairing old video games from the 80's and 90's at a local shop.
He writes when something moves him, when nothing moves him, whenever he can capture a spare moment, and when he senses something that sparks the myriad musical kindling that sits bundled in his thoughts. If his hands aren't moving, his mind surely still is.
Where 2018's "Coyote" had Abney grappling with external tragedies, the lyrics on "Safe Passage" take careful measure of his observations, tending toward opposites—the world's highs and lows, having more versus doing less, saying yes but meaning no, what he was then and who he is now. The result is a peaceful balance between Abney's apparent joy for making music and the ever-present emotions of his writing.
Just when the idea complete coalesced and he began the arduous process of taking what the mind and hands created and transfering it to tape, unexpected events altered the meaning of the record, in name and in concept. A car accident on the highway connecting Oklahoma City and Tulsa that luckily left him safe but his vehicle out of commission caused a snap awareness of mortality and a inkling of what "Safe Passage" really meant. Just as that chapter closed, John's father passed away on the day the album was announced, and the songs began to take on broader new meanings while he tangled with the intangible grief that he was left with and the deep confusion following a loved one's departure.
"Kind Days" touches on 1950s and '60s beach folk instrumentation, a sweet, swaying lesson in patience and a call to move forward towards acceptance: "Bad days are leaving / No use in grieving / Here come those kind days." In retrospect, this was a song Abney needed to hear, but didn't know, after finishing the last lyric.
Abney reminds us to bring that kindness onto ourselves in "When the Dark Winds Blow," a harmonica-laden standout where he and his album-making cohorts belt during the chorus, "Can't be everything to everyone you know / Give yourself some grace when those dark winds blow."
Where the inward-facing lens makes for some poignant lyrical moments, as on Abney's nod and occasional wince at his past self on "Backwards Spring," it's when his studio band stretches its legs that the record's most memorable moments surface.
"Days of Disconnect" is a plucky, fun, rock 'n' roll number where drummer Will Johnson (Centro-matic, Monsters of Folk), violinist/vocalist Megan Palmer, and bassist/vocalist Shonna Tucker (Drive By Truckers), as well as Abney himself on keys, really shine as a cohesive band—the whimsical flourishes, the chorus vocals, the empty space that gives away to the big finish.
A similarly impactful use of quiet leads the album out. The instrumental reprise "Soft Rain After All" ushers in a warm and lilting laugh, elucidating the storm we thought was going to tear through our fields was only a summer shower leading to the sunnier days promised earlier. The delicate and descending piano leads us downward into the sounds of moving water, seabirds, and synthesizers, carrying in comfort and that very elusive acceptance in album closer "Maybe Happy."
"When I cross over from the shadows to the sun you're not with me," Abney sings after a flood of orchestral strings. On another day, on another record, this might've served as a final farewell, but here, it's a realization coming full circle. Our days are short, life is both beautiful and tragic, and when we focus on the minutiae of our mornings-by-evenings, all will be well.
What isn't new on "Safe Passage" is the tendency of Abney's songs to look for the light in the face of tragedy, worry, or self-imposed struggle. What's different this time is he's found it—not in those he's lost, the friends he's leaned on, or even in the heady collection of experiences that he's lived thus far—but in himself. Plenty of songwriters mine the the abject in search of some kind of universal truth; very few find their way home, and John always does.
"I know you can't tell, but I've been doing well," Abney sings as "Safe Passage" comes to end. "Maybe happy."