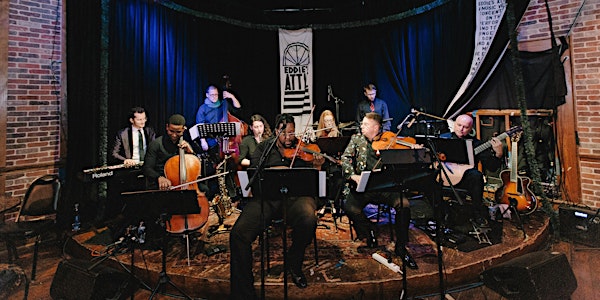 John Burke and the Superstratum Orchestra
Location
Eddie's Attic
515 B North Mcdonough Street
Decatur, GA 30030
Join us for the 5th Annual Winter Concert w/ Grammy-nominated composer John Burke and his Superstratum Orchestra.
About this event
Holiday favorites, mashups, and nostalgic memories. Fun for the whole family.
John Burke
Georgia-born pianist and composer John Burke exemplifies just what a piano can do. Inspired by solo pianist George Winston and The Doors' keyboardist Ray Manzarek, John has created a rich, energetic sound that challenges common preconceptions of piano music.
John is the proud son of musician David Burke and real-estate appraiser Jean Holmes. Joined by his sister, Kelly, John became involved in music at a young age with choirs and car-ride vocal lessons given by his father. As a freshman in high school, John began playing the piano and joined Vinyl, a southern-rock band with friend and country star John King. In 2007, John attended Oglethorpe University where he earned his BA in Spanish with a minor in music. It was there that he fell in love with composition and piano performance. John went on to earn his MPA in 2015 from Georgia State University.
Since 2011, John has composed and released eight albums including his solo piano album, Orogen, which was nominated for Best New Age Album for the 59th Annual Grammy Awards. John has also composed scores for screen and video games, written and directed musicals, and sold out famous Atlanta venues with his Superstratum orchestra. John's latest work, The Longest Night, is an adventurous winter album with clever mashups of popular songs and holiday favorites.
Beyond his compositions, John accompanies choirs, plays jazz, and performs at countless events in Georgia and beyond. At home, he lives happily with his wife, son, and cats.