Description
Our Fall 2016 Job, Internship, and Graduate School Fair will be held on Wednesday, October 12, 2016 in the Simmons Great Hall on the main campus of John Brown University. This event is open to all students and alumni from 10:00-12:00 and 1:00-3:00 [the fair will close for a lunch break from 12:00-1:00]. Get your resume and company pitch ready, it's going to be a great event!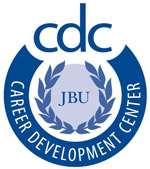 Need-to-Know Information
You can sign in 10-15 minutes before the event begins. (9:45 and 12:45)
What to Wear:
- Business Professional Attire
What to Bring:
- 10-15 copies of your reviewed resume
Get Your Resume Reviewed IN ADVANCE!
Submit your resume for review two weeks before the event. Submit online to JBU CareerLink [see CDC website].