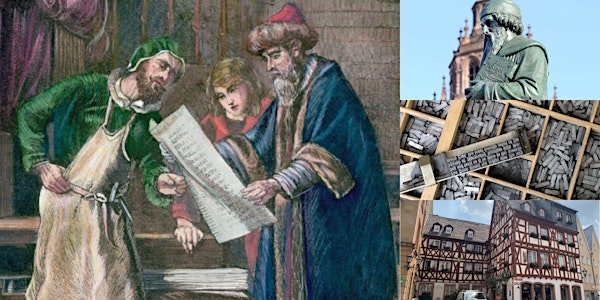 'Johannes Gutenberg: Legacy of the Modern Printing Press Inventor' Webinar
Sales Have Ended
Registrations are closed
Looking to register for the replay? If it's been less than one week since this program aired, email support@nyadventureclub.com with your name, email address, and the webinar replay you're interested in viewing. We'll then send along an invoice, and once paid, you'll get access to the replay for the remaining time.
Can't make it live? Register and get access to the full replay for one week! New York Adventure Club | www.AdventureClub.com
About this event
On the eve of the year 2000, prominent publications and journalists from across the world celebrated Johannes Gutenberg, inventor of the modern printing press, as Man of the Second Millennium. But how did this unassuming German goldsmith from the 15th century go on to be responsible for Modern Age European movements including the Enlightenment and Democracy? And what financial and political challenges did he face along the way? It's time to uncover the life story of one of modern civilization's most important figures.
Join New York Adventure Club as we explore the incredible legacy of Johannes Gutenberg, and how his invention of the modern printing press not only changed his life forever, but also altered the societal and religious foundation of modern Europe, and eventually, the rest of the world.
Led by museum educator and art historian Sylvia Laudien-Meo — who grew up in Gutenberg's hometown of Mainz, Germany — our virtual experience surrounding Gutenberg will include:
An overview of Gutenberg's early years, from the inspirations that led to the invention of the printing press to the financial difficulties he faced
A virtual tour through Gutenberg's German hometown of Mainz, including historical buildings from his time (15th century), traditional festivals and culinary specialties, and important Rhein River sites
A detailed discussion of Gutenberg's invention, and why out of all the printed works he created — from grammar books to calendars — the Bible he produced is still considered his greatest masterpiece
Gutenberg's complex relationship with the Church and Crusades
How and why Gutenberg was celebrated by early French and German revolutionaries and nationalists in the 18th and 19th centuries
Gutenberg's presence in U.S. collections and representation in public art, especially NYC
Afterward, we'll have a Q&A with Sylvia — any and all questions about Johannes Gutenberg are welcomed and encouraged!
Can't make it live? Don't worry, you'll have access to the full replay for one week!
See you there, virtually!
*Immediately upon registering, you will receive a separate, automated email containing the link to join this webinar
**For the best possible viewing experience, please ensure you're using the latest version of your internet browser — Google Chrome is the most compatible. Exact technical requirements and a webinar user guide will be shared in the automated confirmation email upon registration.
***A full replay of the experience will be available to all registered guests for up to a week
About Sylvia
Sylvia Laudien-Meo is a freelance Art Historian who works in and around the city in various capacities, specializing on Modern and Contemporary art, with a strong focus on Public Art. She teaches art history at Fairleigh Dickinson University and has been working as a museum educator at MoMA, the Guggenheim and the Jewish Museum for over many years, engaging visitors in conversation based, interactive art experiences of permanent collections and changing exhibitions.
For the Municipal Art Society, UFT, Brandeis Univ., and private clients, she has been touring the city for over 20 years, exploring art and architecture, parks, neighborhoods and history. Working in various different capacities gives her a unique opportunity to make intriguing connections and weave together the complex perspectives that make out the tapestry of our fascinating city.
SLM holds a Masters Degree in Art History (with minors in History and American Studies) from the Joh. Gutenberg University in Mainz, Germany, as well as a Tourism degree from the EST in Paris France.
Testimonials
"Different views of where Gutenberg grew up in Germany." -Sarah
"History plus environment." -Karen
"Having been to Mainz a few years ago, I enjoyed revisiting the area with Sylvia. Also, having worked in publishing for several decades, it was interesting to hear about the origins of printing and see some of the first printed books." -Lahring
"I loved getting a holistic view of Gutenberg's world, where he worked, and what the places are like now! Thanks for all the contextual content." -Nicole
"Knowledgeable presenter. Pleasant demeanor." -Ann
Disclaimer
By attending a New York Adventure Club experience, you accept our terms of service.
Categories: Virtual, Moments in History