Description
The JOGS Tucson Gem and Jewelry Show is an amazing place to pick up finished jewelry, minerals, rough materials and beads.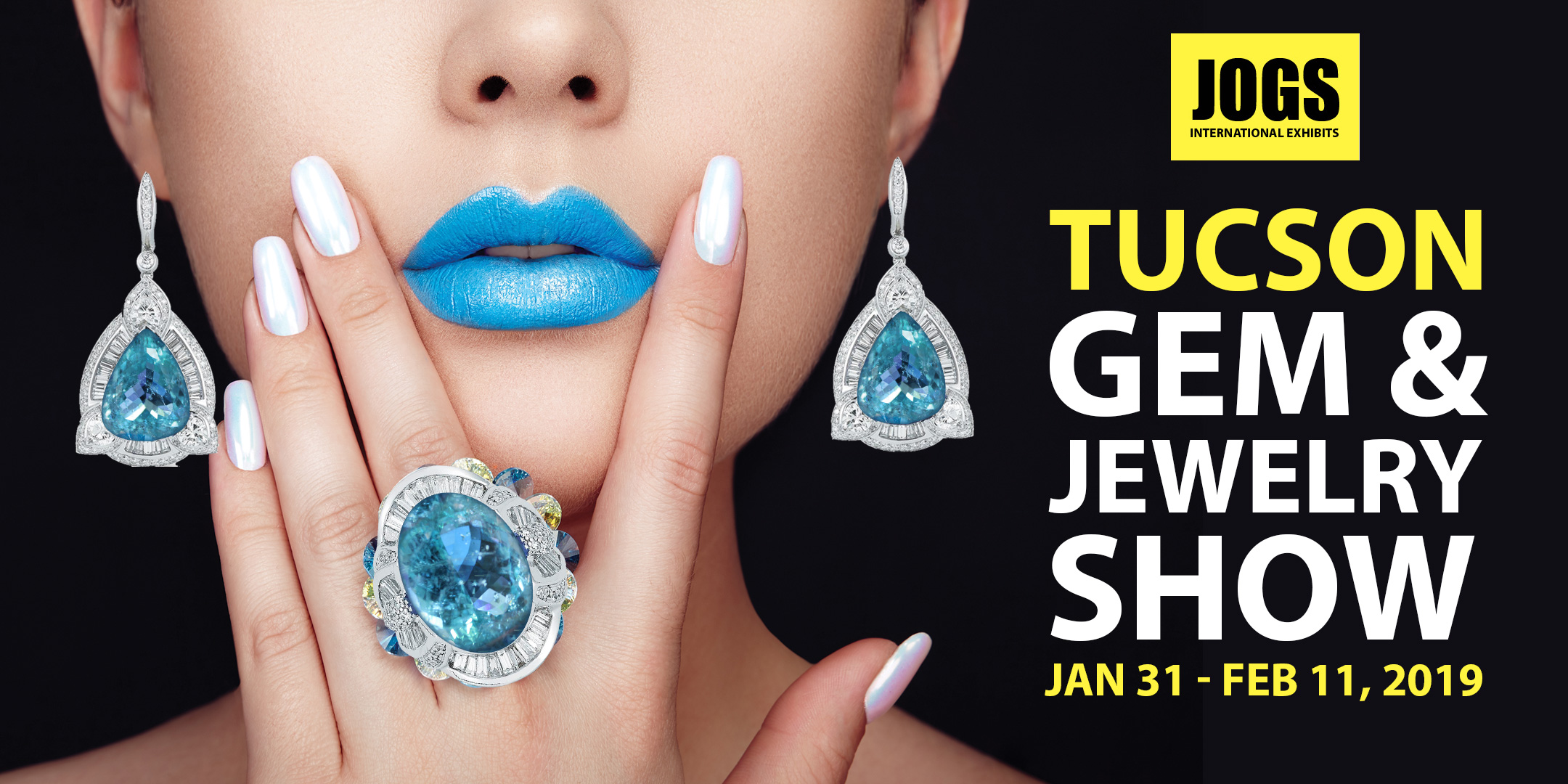 Celebrating a special event? Explore a great variety of bridal jewelry, loose or finished diamonds and luxury findings. If you are a private collector the JOGS Tucson Show also hosts a unique selection of specimens and collector's pieces. DIYer? The Show is heaven for beaders and jewelry makers who can find beads, cabochons and findings galore.
The Show brings more than 40,000 visitors to the Tucson region annually. This annual show is an absolute must for jewelry, gemstone, and mineral hunters chasing unique jewelry and gem masterpieces, stunning new jewelry trend lines that designers and manufacturers were preparing whole year for the JOGS Show buyers.
Buy directly from jewelry designers, miners, gem cutters, and manufacturers and pay lower than retail price!
Explore more than 800 booths on our 155,000 sq.ft. show floor plus more than 200 jewelry making classes and seminars taught by world renowned beaders and jewelry designers. There are classes and seminars about jewelry making, beading, wire-wrapping, metal work, polymer clay, enamelling, inlay and more.
The Show has an interesting, ecletic and friendly atmosphere, where you can meet and become friends with exhibitors from 26 countries.
❤️ Valentines Day Gifts - If you are looking for a truly unique gift for your sweetheart, skip the mall and head to the JOGS Show. Whether she loves diamonds, crystals, or geodes, you'll be able to find a romantic gift that's out of the ordinary.
JOGS Tucson Show Highlights

International and Domestic Pavilions
The JOGS Winter Show is split up into Pavilions, each dedicated to a specific type of gem and jewelry products:
Amber Pavilion – top amber direct manufacturers and designers from Poland, Russia, Lithuania, Indonesia and Columbia with large variety of amber cameos, carvings and natural Baltic amber beads and Designer Baltic amber jewelry set in sterling silver and gold

Southwest Pavilion – the varied styles of some of the most prominent Handmade Native American Jewelry, Southwestern/Indian Arts and Crafts reflect the mastery of techniques refined over hundreds of years and the influence of neighboring cultures

Top US Turquoise Pavilion – paradise for turquoise hunters. Major miners and dealers with finished sterling silver jewelry, cabochons, beads and rough from the world's best turquoise mines. Bisbee turquoise, Kingman turquoise, Sleeping Beauty Turquoise, Nevada turquoise, New Mexico turquoise, Cripple Creek, Colorado, and extraordinary collection of Iranian turquoise

Indonesian Pavilion – direct manufacturers and designers of sterling silver and gold jewelry with semi-precious stones, shells, wood, pearls and corals, handmade from Bali and all around Indonesia – one of the most popular Pavilions

Nepal Group Pavilion – ethnic tribal handcrafted jewelry, crafts and gifts from Nepal and Tibet

International Designers Pavilion – trendsetting designers from around the world presenting modern intricate jewelry lines and one-of-a-kind pieces

Silver Pavilion – superior selection of finished sterling silver jewelry presented by the largest silver jewelry manufacturers and famous jewelry designers from USA, India, Mexico, Thailand, Indonesia, Italy and other countries

Gemstone Pavilion – international dealers bring their largest collections of gemstones, precious and semi-precious; rarest colored stones, cut stones, specimens, cabs, rough, fossils and beads from Thailand, India, Brazil, Sri Lanka, Columbia, Africa, Russia, Morocco, Madagascar, Bolivia, and other countries

Stone/Mineral Decor Pavilion – finished gemstone products, rough materials for decor purposes: sculptures, luxury fountains, stone and petrified wood furniture, onyx decorative home and kitchen decor, hand carved interior decorations from China, Madagascar, Brazil, Afghanistan, Mexico, Africa, and much more
What can you find at the Show?
Fine Jewelry

Diamond Jewelry and loose diamonds

Gemstones, precious & semi-precious

Geodes

Silver Jewelry

Gemstone decor, home decor and carvings

14-18K Gold Jewelry

Raw materials and minerals

Designer Jewelry

Beads and cabochons

Fashion Jewelry

Fossils

Metaphysical Stones & Crystals

Jewelry displays, packaging and accessories

Ethnic/Tribal Jewelry

Watches

Crystals

Organic Jewelry - pearls, amber, corals, shells, etc.

Findings

Jewelry tools
JOGS Tucson Gem & Jewelry Show Admission Rules:
All JOGS Show Guests must present their EventBrite tickets in order to receive their official Guest Badges to gain access to the show floor.
The JOGS Guest ticket/badge is valid for the entire 12 days of the JOGS Tucson Gem and Jewelry Show: January 31 - February 11, 2019.
All JOGS Show guests are required to present photo identification matching guest ticket/badge information.
JOGS Show reserves the right at its sole discretion to determine if a guest is qualified to attend the show basesd on the information provided by the registrant. JOGS International Exhibits, LLC reserves the right to refuse the service to anyone.
Badges/Stickers must be worn at all times in the exhibition hall.
No children under the age of 14 will be allowed, including infants.
The JOGS Tucson Gem & Jewelry Show is a wholesale trade show which is open to the public (entry ticket required). Some exhibitors require a copy of a resale license for all transactions. If you are making any purchases at the show which are for your own personal use and not for resale, you will be responsible for paying any required sales tax associated with that purchase.
Jewelry Making Classes
Over 200 Jewelry classes will take place at the Tucson Expo Center during the Show. These classes will be handled by JewelryTools.com
JOGS Tucson Gem & Jewelry Show Venue

JOGS Tucson Gem & Jewelry Show is located in Tucson Expo Center, 150,000 sq. ft. contemporary expo center, air-conditioned venue.
JOGS Tucson Gem & Jewelry Show offers over 1,000 free parking spaces for Tucson Gem Show buyers and guests.
JOGS Show has international food court and complimentary shuttle services to Tucson Gem Shows.
Venue Location
Tucson Expo Center
3750 E. Irvington Road, Tucson, AZ 85714
Dates and Hours
January 31 - February 11, 2019 (12 day show)

10am - 6pm Daily
10am - 4pm (Last Day)
Important Show Policies:
GUEST POLICIES
Non-wholesale buyers (those who do not have business/resale license in gem and jewelry business or any other proof of being related to gem and jewelry business), are welcome to visit the Show and will be able to purchase merchandise as long as they have purchased an entry guest ticket. However, exhibitors hold the right to refuse sales to Guests.
NOTE: The tickets are valid for all days of the SHOW!
PRIVACY POLICY
We are committed to keeping your e-mail address and other personal data confidential. We do not sell, rent, or lease our registered buyers/visitors' records to third parties, and we will not provide your personal information or data to any third party individual, government agency, or company at any time. We will use your e-mail address solely for communication purposes between you and JOGS Tucson Show.