Description
Tucson JOGS Gem & Jewelry Show is one of the U.S. largest and most interesting gem and jewelry event year after year.
At our Show you can meet: jewelry designers, manufacturers, miners, wholesalers, jewelry liquidators from USA, Mexico,Canada, Germany, Nepal India, Thailand, Poland, Canada, Russia and other countries.
Perfect timing to buy presents for you and loved ones before busy holiday season!!! Great selections and trendsetters from direct source:
Largest diverse silver jewelry selection

Natural rare beads and cabochons
Findings
Crystals
Fashion jewelry
Organic jewelry – pearls, amber, corals, shells, etc
Jewelry tools
Designer jewelry
Gemstones, precious and semi-precious
Cut stones
Fine jewelry
Ethnic and tribal jewelry
More information about the Event you can find www.jogsshow.com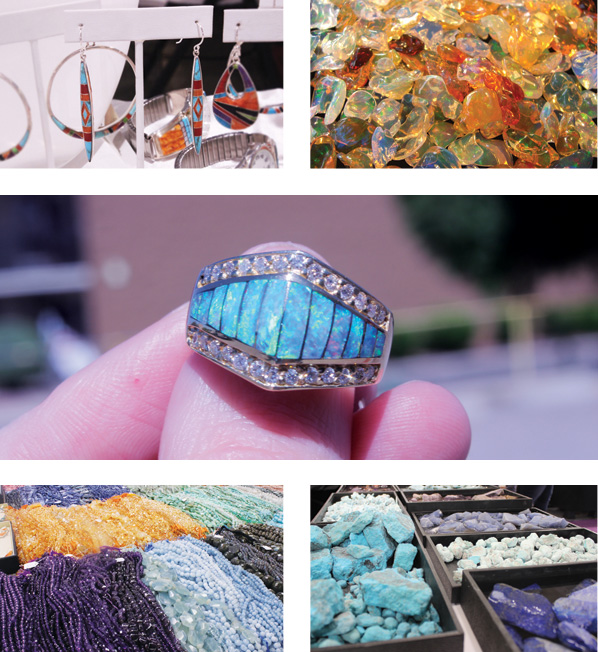 Hours
August 29, 2019: 10:00 AM - 6:00 PM
August 30, 2019: 10:00 AM - 6:00 PM
August 31, 2019: 10:00 AM - 6:00 PM
September 1, 2019: 10:00 AM - 4:00 PM
Tickets are valid for all four days of the Show!
---

Guest Policies
Non-wholesale buyers (those who do not have business/resale license in gem and jewelry business or any other proof of being related to gem and jewelry business), are welcome to visit the Show and will be able to purchase merchandise as long as they have purchased a ticket. However, exhibitors hold the right to refuse sales to Guests.
Guests under age 9 are not permitted at the Fall show due to safety reasons.
---

Registered Businesses in the Gem & Jewelry Industry FREE with registration!
If you own a business that buys from the Gem & Jewelry industry, you are welcome to register for free. You will need to bring proof of being a registered business allowed to buy wholesale (Business/resale License or tax ID certificate), and proof of being in the Gem & Jewelry industry (business cards, receipts, etc.) We welcome designers, miners, gift shop owners, boutiques, jewelers, retailers and more.
Click here to register as a business

Military & Family Receives FREE Admission
JOGS offers free admission to all Military members (Active & Veterans) and their immediate family members. To receive your military ticket, please "purchase" a ticket online by choosing "FREE Ticket for Military & Family" option from the ticket options. You will not be charged. Please bring your Military ID to the Show.
---
Refunds
You may only request a refund before the show starts. Refunds will not be granted if they are requested after the show has started.
Privacy Policy
We are committed to keeping your e-mail address and other personal data confidential. We do not sell, rent, or lease our registered buyers/visitors' records to third parties, and we will not provide your personal information to any third party individual, government agency, or company at any time. We will use your e-mail address solely for communication purposes between you and JOGS Tucson Show.