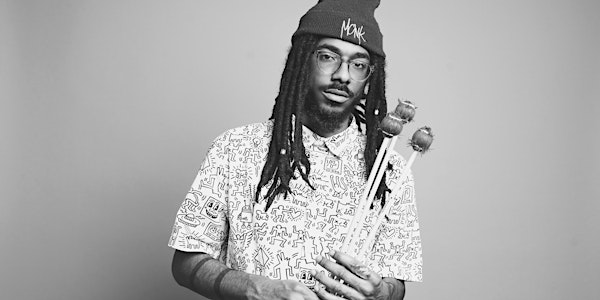 Joel Ross 'Good Vibes'
NYC Vibraphonist Joel Ross brings his quartet on a tour of the Southwest.
Location
The Century Room
311 E Congress St
Tucson, AZ 85701
Blue Note Recording artist Joel Ross continues top critics' polls and pack clubs with his virtuosic playing. ($30-$35 Tickets)
About this event
The Century Room & the Tucson Jazz Festival Present:
Joel Ross 'Good Vibes'
Monday, September 19
6pm doors / 7pm 1st Set
8:30pm doors / 9pm 2nd Set
$30 advance / $35 day of show / $35 "Dinner & Show" Reserved Seat
– Joel Ross (vibes) Jeremy Corren (piano) Kanoa Mendenhall (bass) Jeremy Dutton (drums) –
"Ross' playing erupts through the layers of lush arrangements like consistent currents of electricity, high-powered and full of luminous energy " – DownBeat
"Particularly on his own compositions, Mr. Ross and the band treat rhythm as both fundamental and unfixed, while dousing the music in harmonies derived from modern gospel" – The New York Times
"The bright future stretching before Ross has as much to do with that emotional expression as anything that happens between his mallets and those metal bars " – NPR
Joel Ross continues refining an expression that's true to his sound and his generation. In 2019, the vibraphonist-composer issued his anticipated Blue Note debut, Edison Award-winning record KingMaker to eruptive critical acclaim, followed by his 2020 release Who Are You? which features his band Good Vibes at their most synchronous. New York Times critic Giovanni Russonello praised the album for the ways it "speaks to a new level of group cohesion…more tangle, more sharing, more possibility." The Parable of the Poet, Ross' third release for Blue Note Records, explores feelings self-awareness — confidence, doubt, regret and forgiveness — through storytellings and retellings.
Ross has topped the DownBeat Critics Poll Rising Star category for vibraphone — graduating beyond the Rising Star to well-honed artist in 2021 — as well as the Jazz Journalists Association Critics Poll for Mallet Instrumentalist of the Year in 2020 and 2021. He recently became one of the youngest artists to earn a coveted Residency Commission from The Jazz Gallery and a spot in The Jazz Gallery All Stars band through which he performed live at The Kennedy Center.
Folkloric resonance incubates Ross' artistry. Improvising melodies or composing at the piano, he leaves space for a theme to emerge and evolve, always inviting creative response. Nimble, virtuosic lines approximate speech. He often transitions among the roles of storyteller, protagonist and supporting character. Inspired by mentor Stefon Harris' empathetic, whole-self approach to articulation, Ross has adopted an entire ethos dependent on truthful, ongoing communication. Honesty persists throughout his sets. And with each release, he reaffirms a commitment to authentic discourse.
In 2021, Ross joined the adjunct faculty at Manhattan School of Music and The New School for Jazz and Contemporary Music in New York City.