Joel McHale & Kristen Kish (RED) Cook-Along hosted by Billy Harris
About this event
Support the fight against COVID and join (RED)'s ALL-STAR KITCHEN cook-along series with Joel McHale & chef Kristen Kish along with mixologist Charlotte Voisey, hosted by Billy Harris, generously supported by Merck & Co., Inc., Kenilworth, NJ, USA.
WHAT WE ARE MAKING
Cocktail demo with Charlotte Voisey
Make it Monkey - Monkey Shoulder, red wine, fresh lemon, simple syrup, egg white & Angostura bitters
Cook Along
Ricotta & Parmesan Gnudi Olive oil, with summer squash, lemon, tomato, pistachio, basil
DOWNLOAD HERE FOR RECIPE & INSTRUCTIONS
BENEFITING (RED)'S FIGHT AGAINST COVID
Tickets are priced at $25 (plus ticketing fees), and thanks to generous dollar matching by the Bill & Melinda Gates Foundation, every ticket purchased will result in $100 to the Global Fund's COVID Response.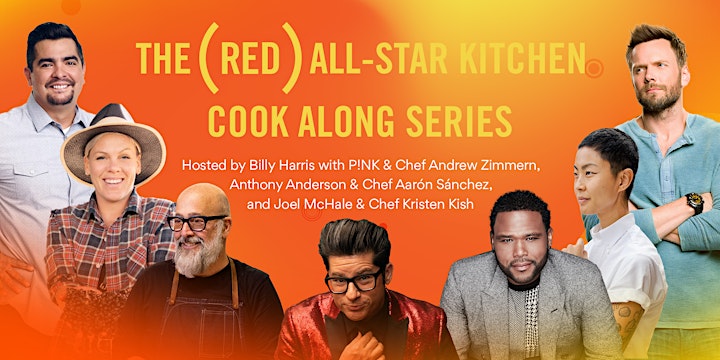 FAQ
Zoom details sent out on the day of the event
100% of ticket price (excluding booking fee) to benefit (RED)'s fight against COVID
Tickets are non-refundable after purchase
CONTACT
For further information e-mail the event producer at: paulcvitagliano@gmail.com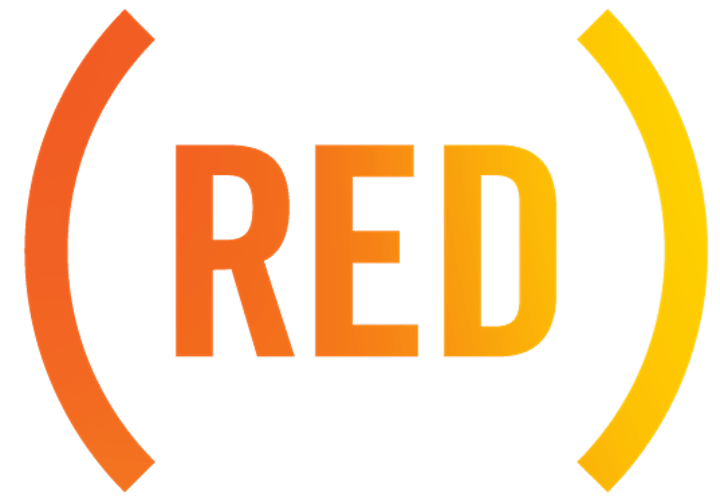 JOEL MCHALE
Joel McHale is an actor, comedian and television host. He can currently be seen in the dark romantic comedy Happily alongside Kerry Bishe. He can next be seen hosting the new FOX game show Crime Scene Kitchen which will premiere on May 26 at 9pm. He will also return as host of ABC's Card Sharks on
June 9 at 10/9c. He continues to co-hosts the podcast The Darkest Timeline alongside his fellow Community co-star Ken Jeong and recently wrapped production on season 2 of DC Universe series Stargirl where he portrays "Starman/Sylvester Pemberton". He is currently in production on the upcoming comedy inspired by a true story, Queenpins, where he will star alongside Kristen Bell as her husband. Other recent projects include the thriller Becky alongside Kevin James and Lulu Wilson, CBS All Access Twilight Zone and voicing Johnny Cage in Mortal Kombat Legends: Scorpion's Revenge. McHale's past projects include The Happytime Murders as well as Netflix's A Stupid & Futile Gesture opposite Will Forte, in which he played Chevy Chase, his former Community co-star. McHale hosted The Joel McHale Show with Joel McHale on Netflix, a half-hour topical series that took a sharp, absurdist look at pop culture and news from across the globe. In 2015, he wrapped the twelfth and final season of E!
Network's The Soup, in which he satirized pop culture and current events. McHale is best known for his starring role on the hit comedy series Community, which ended its sixth season on Yahoo! after five seasons on NBC. He previously starred in The Great Indoors on CBS, Netflix's Santa Clarita Diet with Drew Barrymore and Timothy Olyphant, and Fox's revival of The X-Files, where he played a conservative news anchor. Other starring feature roles include A Merry Friggin' Christmas opposite Robin Williams, the Jerry
Bruckheimer-produced supernatural thriller Deliver Us From Evil, the Warner Bros' romantic comedy Blended alongside Adam Sandler and Drew Barrymore, Seth MacFarlane's comedy smash Ted, David Frankel's The Big Year, Steven Soderbergh's The Informant as well as What's Your Number starring Chris Evans and Anna Faris. In 2014, McHale hosted the annual White House Correspondents' Association Dinner in Washington D.C. He also hosted the 2015 ESPYS on ABC. In the fall of 2016, McHale released his first book through Putnam Penguin, Thanks For The Money: How to Use My Life Story To Become The Best Joel McHale You Can Be, which is part memoir, part self-help guide.
Born in Rome and raised in Seattle, Washington, McHale was a history major at the University of Washington and a member of their championship football team. He also graduated with an MFA from the Actor's Training Program. McHale resides in Los Angeles with his wife and two sons
KRISTEN KISH
Kristen Kish was born in South Korea and adopted into a family in Kentwood, MI. She showed an affinity for cooking at a young age. Her mother suggested she go to culinary school and since attending Le Cordon Bleu in Chicago, Kish has never looked back.
After moving to Boston, Kish worked in many high-profile restaurants including Michelin-star Chef Guy Martin's Sensing and Barbara Lynch's Stir as Chef de Cuisine, overseeing all back of house operations, including the design and execution of nightly menus and demonstration dinners for 10 guests. Kish competed on Bravo's Top Chef Season 10 where she won the coveted title, becoming the second female chef to win the prestigious competition. She went on to become Chef de Cuisine of Menton, Chef Barbara Lynch's fine dining restaurant. She left this position in 2014 to travel the world and write a cookbook.
Kish was co-host of "36 Hours," a Travel Channel show that partnered with The New York Times to bring the hit newspaper column to television. In each episode, co-hosts Kish and Kyle Martino arrived in a new city where they had 36 hours to explore the most delicious foods and hot spots, and experienced the best attractions unique to each place. In October 2017, Kish launched her first cookbook - Kristen Kish Cooking.
Kish partnered with Sydell group to launch her first restaurant, Arlo Grey. A collaboration between Executive Chef Kish and Sydell group, the restaurant reflects Kristen's playful yet refined cuisine pulling inspiration from a French and Italian cooking background paired with a nostalgia of dishes from her upbringing to her love of travel that helped her gain an outlook on how people cook to tell their story. Kish is thrilled to use the ingredients of Texas and the Gulf and marry it with her style to create a place for diners to enjoy.
Currently, Kish is co-hosting a new TV series – "Fast Foodies" – on TruTV. Additionally, Kish will be part of a rotating judging and dining panel for season 18 of Bravo's Top Chef, set to air spring of 2021.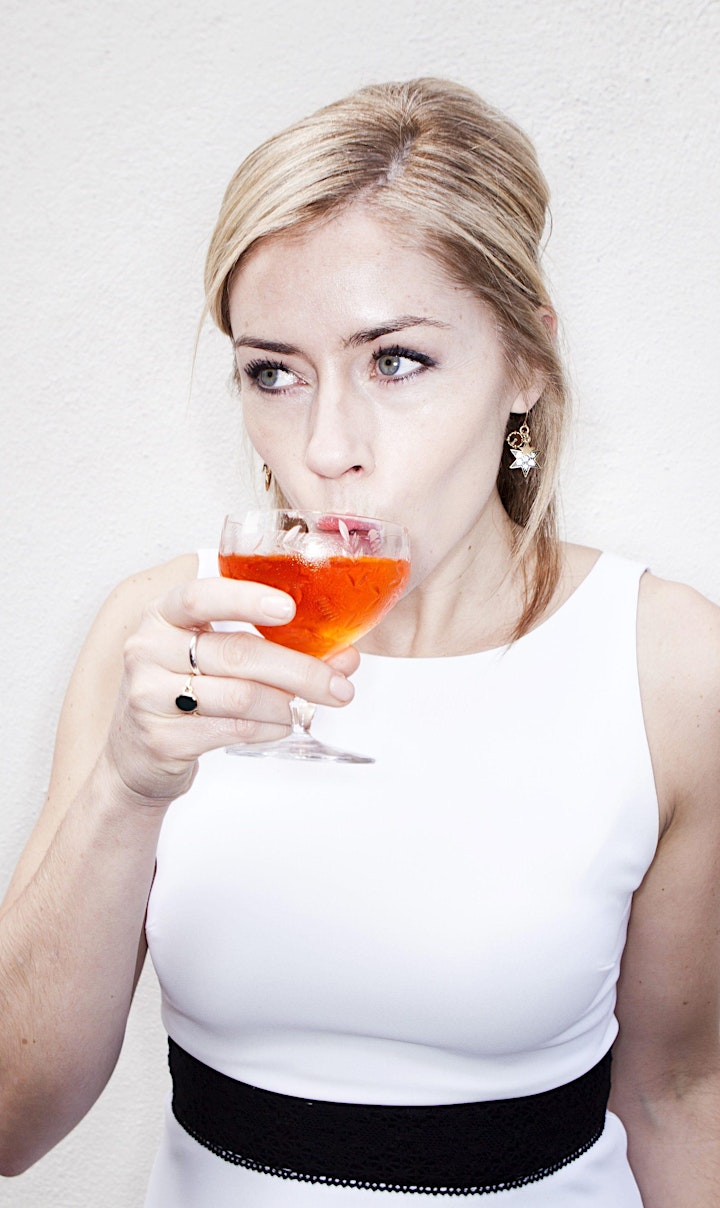 Charlotte Voisey
Charlotte Voisey is one of the most respected spirits educators and mixologists in the World,  She has been awarded Best American Brand Ambassador, Golden Spirit Award winner, UK Bartender of the Year, Mixologist of the Year for Wine Enthusiast Magazine and a silver medal at the World Bartender Championships in Italy.  Charlotte has been recognized by the James Beard Foundation for her contribution to mixology and currently the Global Head of Ambassadors for William Grant & Sons.  Charlotte is an Associate Partner of the B.A.R. Five Day Program.  
Host of video series The Proper Pour with Charlotte Voisey, Charlotte's cocktails have been placed on menus across the world including New York's famed PDT, the iconic Dorchester Hotel in London and Whitechapel in San Francisco.  Charlotte's passion for all things spirits and cocktails keeps her in an active speaking role at all major industry events including Tales of the Cocktail, Aspen Food & Wine, Las Vegas Nightclub & Bar Show, Charleston Wine + Food Festival and Barra Mexico and a regular contributor on television including appearances on The Today Show, Iron Chef America and Watch What Happens Live with Andy Cohen.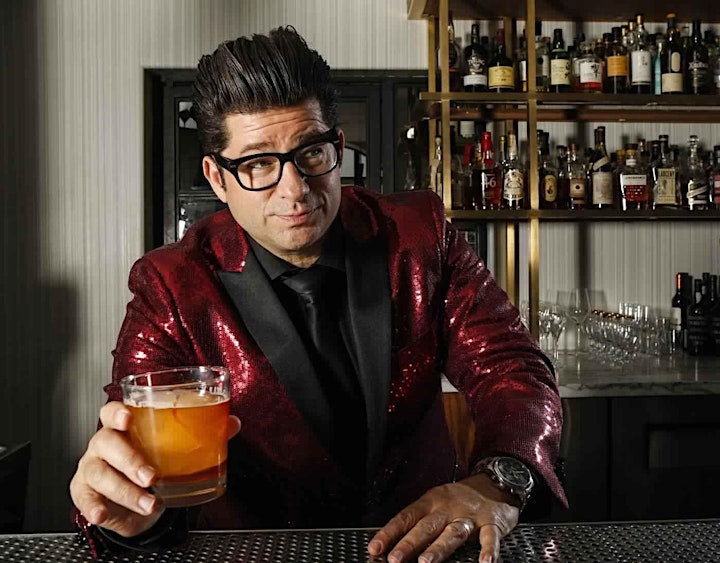 Billy Harris
For the past twenty-five years, Billy Harris has been wowing audiences throughout the United States and around the world. His razor-sharp timing and brilliant improvisational skills have made him one of the most sought-after MC's in the business. A cousin of Vaudeville great Georgie Jessel, Billy has been performing his entire life. By the tender age of five and a half, he understood how to "work a room"!
Additionally, Billy is a highly sought-after auctioneer who lends his comedic style to the auction block. His contagious energy, explosive style and ability to work the crowd, will create an atmosphere that will have the audience laughing while opening their wallets! Billy has raised hundreds of Millions of Dollars for The American Cancer Society, No Kid Hungry, The New York Food Bank, Alex's Lemonade Stand Foundation, Autism Speaks, The James Beard Foundation, March of Dimes, The Roundabout Theatre and the National Institute of Health…just to name a few.
Date and time
Location
Refund policy
Organizer of Joel McHale & Kristen Kish (RED) Cook-Along
(RED) is named after the color of emergency, and since its founding in 2006, has turned companies and people into a global force to fight the world's biggest health emergencies. These emergencies— like AIDS and COVID— flourish in communities where poverty and discrimination based on race, gender, and sexual orientation thrive. Together with its supporters and collaborators, (RED) sounds the alarm on the injustices of global health and funds programs that save lives, generating more than $650 million for the Global Fund to date, helping more than 220 million people.