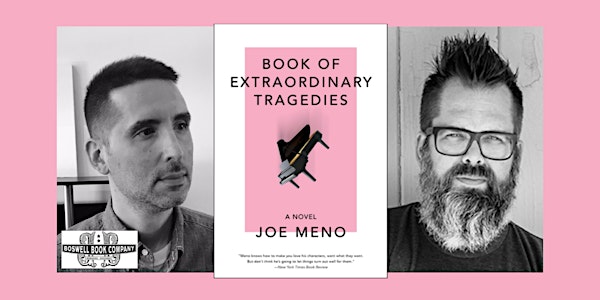 Joe Meno, author of BOOK OF EXTRAORDINARY TRAGEDIES - a Boswell event
Joe Meno, author of BOOK OF EXTRAORDINARY TRAGEDIES, in conversation with Coe Douglas - an in-person Boswell event
When and where
Location
Boswell Book Company 2559 North Downer Avenue Milwaukee, WI 53211
About this event
Boswell presents an evening with bestselling author Joe Meno for his latest, Book of Extraordinary Tragedies. In conversation with multi-disciplinary artist and storyteller Coe Douglas.
Aleksandar and Isobel are siblings and former classical music prodigies, once destined for greatness until tragedy at an early age caused them to abandon their musical ambitions. Now in their twenties, they find themselves encountering ridiculous jobs, unfulfilling romantic relationships, and the outrageousness of ordinary life. But when an illness forces Isobel and her three-year-old daughter to move back into the family home, Aleks becomes deeply involved in the endless challenges that surround his relatives. Once Isobel begins playing cello again, Aleks comes to see a world of possibility and wonder in the lives of his extraordinarily complicated family.
From Luis Alberto Urrea, author of The House of Broken Angels: "I don't know how Joe Meno does it - if I did know, I'd copy him. This book has such velocity that it generates wind, yet it is meditative and steeped in love, music, and human connection. It's stunning."
Joe Meno is the best-selling author of several novels and short story collections including Marvel and a Wonder, The Great Perhaps, and Hairstyles of the Damned. Winner of the Nelson Algren Literary Award, a Pushcart Prize, and a finalist for the Story Prize, he is a professor in the English and Creative Writing Department at Columbia College Chicago.
Click here to purchase your copy of Book of Extraordinary Tragedies. Signed copies and personalization available on pre-orders. Please note that signed copies will ship after the event.