Sales Have Ended
Ticket sales have ended
If you would like your name to be placed on a waiting list please email squeeprojects@gmail.com with your name and contact information.
Sales Have Ended
Ticket sales have ended
If you would like your name to be placed on a waiting list please email squeeprojects@gmail.com with your name and contact information.
Screening of All Hail the Popcorn King a documentary about Joe R Lansdale and his work with guest of honor Joe R Lansdale and his family,






About this event
Join us at the Alamo Draft House in Austin for the premiere screening of the new documentary All Hail the Popcorn King on the life and work of Joe R Lansdale followed by a celebration with special guests Joe R , Karen, Kasey & Keith Lansdale and Brian Keene.
From Bubba Ho-Tep to Hap and Leonard and for all of the fans that have followed along throughout Joe R Lansdale's storied career, All Hail The Popcorn King the documentary is something of a monument.
This is a film that we can all get excited about!
Joe's unique voice has spanned multiple genres and been adapted for film and TV. He has supported and collaborated with generations of writers, filmmakers and fans. Our film celebrates his contributions to Pop Culture through interviews with his many colleagues, fans and collaborators.
The interview line-up looks like the invitation list to the All-Time Genre Luminaries Conference, and it includes:
* Bruce Campbell
* F Paul Wilson
* Mick Garris
* David J Schow
* Chet Williamson
* Keith, Kasey & Karen & Pamela Lansdale
* Brian Keene
* Judy Pancoast
* Jeani Rector
* Austin Holt
* Del Howison
* Yuri Lowenthal
* Andy Rausch
* Chuck Wiser
* Matt Venne
* Seba Pezzani
* Nick Damici
* Joe Hill
*James Purefoy
*Amber Benson
*Don Coscarelli
*Rick Klaw
*Christopher Moore
*Chad Lutzke
*ER Bills
*Susan Leighton
*Anne Collins Smith
Joe himself has collaborated with our team on this documentary, and he has generously granted us access to invaluable interviews and materials from his private collection.
The screening and celebration will be held at the Alamo Draft House, Slaughter Lane, Austin August 18th 2019 1-4 PM. Joe and his family will be there to chat with guests.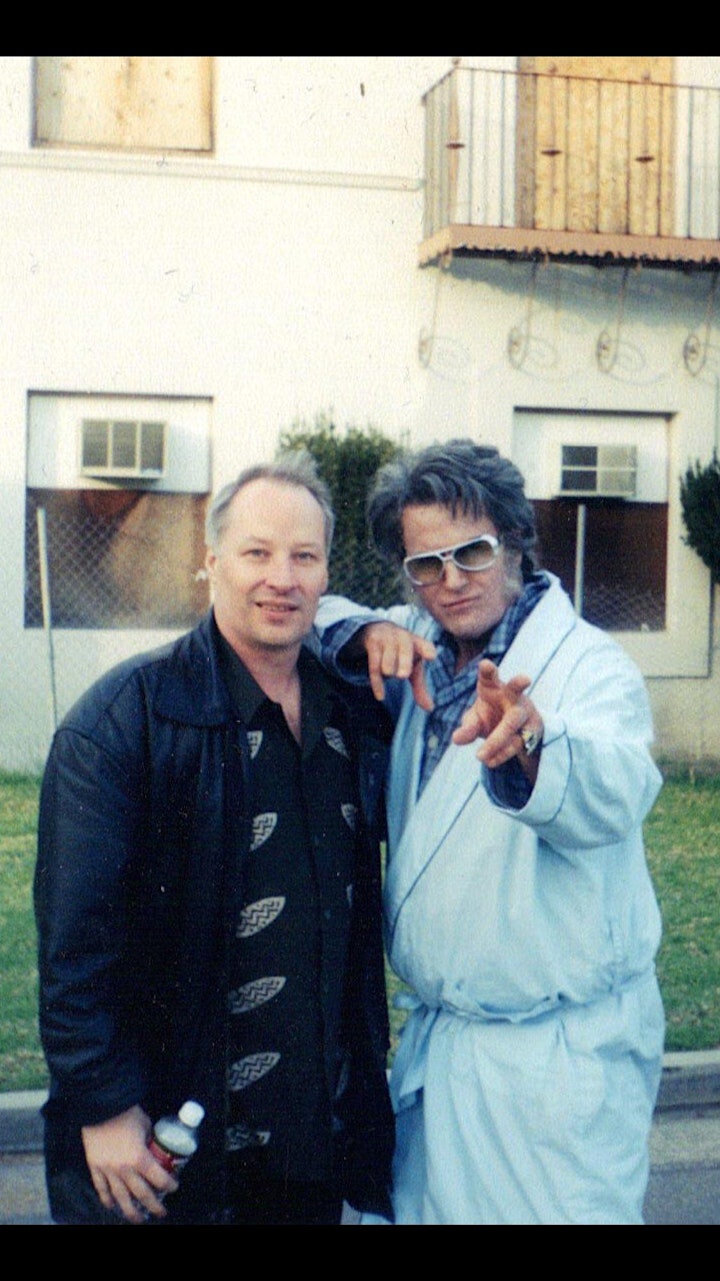 Joe Lansdale and Bruce Campbell on the set of the film Bubba Ho-Tep based on his novella.
Organizer of Joe Lansdale Documentary Premiere Screening Party
Click here to subscribe to our text messages.
Hansi Oppenheimer is an independent filmmaker and the CEO of The Squee Project, a media network supporting representation, feminism & diversity in pop culture. We encourage collaboration not competition.
Hansi is the Producer/ Director of:
All Hail the Popcorn King : The Joe R. Lansdale Documentary
Squee Fu: Fans Celebrate the Return of Joe Bob Briggs
Squee! Identiyfing as a Fangrrl
Squee! Costuming, Cosplay & Indentity  
She created and produced
Color Me Obessed; A Film About The Replacements.
Additional infomation:
She produced the fan-centric creative event SqueeCon 12/18, produces a podcast, The Grr in Fangrrl on semi-regular basis on BlockTalkRadio, has produced fan film festivals and is currenlty touring with her latest documentary All Hail th Popcorn King.
In Spring she will be starting production on a Splatterpunk documentary with writer, John Skipp. If you would like to be a part of any of her projects or cover them for press: please contact squeeprojects@gmail.com or vist her website.