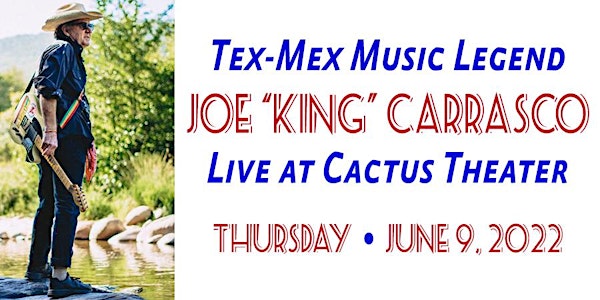 Joe "King" Carrasco - Tex-Mex Music Legend - Live at Cactus Theater!
ALL AGES
Presented by the Cactus Theater
Joe "King" Carrasco - Tex-Mex Music Legend - Live at Cactus Theater!
When and where
Location
Cactus Theater 1812 Buddy Holly Ave Lubbock, TX 79401
About this event
Known as the King of Tex-Mex rock and roll, Joe "King" Carrasco, creates a stylistic borderland of pop rock and Latin rhythms. His cross-cultural stew blends cumbias, vamp, salsa, surf, reggae, blues, and Latin-tinged polkas. It has been a long road, coming from Dumas,Texas, a dusty little west Texas town where in the 7th grade he started playing in garage bands. In his late teens, he was often lured to the beaches in Southern Mexico and was drawn to the Mexican music he was hearing around him. Back in Texas, he joined up with future members of the Texas Tornados and formed a band known as Joe "King" Carrasco & El Molino and in 1978 released his first LP titled "Tex-Mex Rock & Roll". Somehow this record made its way to England and was re-released by Big Beat Records where Elvis Costello would always play "jalapeño con big red" on his radio show - in London.
In 1979, he formed Joe "King" Carrasco and the Crowns featuring Vox organ-driven Tex-Mex pop. The Crowns, released their first single, "Party Weekend", and the label chase began and soon the band was playing chic New York venues and generating lines around the block. The band became one of the first American groups signed to England's legendary Stiff Records. During this time Joe toured extensively throughout Europe, Central America, Bolivia and Columbia as well as across the USA and Canada, consistently delivering high energy performances where dancing was the numero uno priority.
Rounding out his assault on the International music scene with an in-depth interview in Rolling Stone Magazine and an appearance performing his music on Saturday Night Live. His song "Party Weekend" which is still known as the quintessential party anthem, was re-released by MTV as Party Christmas, making Joe "King" Carrasco a household name to MTV viewers across the country.
Even with all this going on Joe knew he was ready to take his music to a new level. It was on the Stiff Records, Sons of Stiff Tour, while traveling with a British-born Jamaican band called The Equators, that Joe picked up much of his reggae influence. After returning from a very successful year on the road, he put this experience to work and recorded the reggae flavored song "Don't Let a Woman (Make a Fool Out of You)" on his album Synapse Gap for MCA Records where he had the "King of Pop" - Michael Jackson - singing background harmonies.
Several years ago, His Majesty took a few left turns at Nogales and wound up playing with his band at a bar called Pancho y Lefty's in San Miguel de Allende, Mexico. There, the Tex-Mex fell into a slow cool cumbia/reggae groove. This style seemed to be the musical answer to what Joe had been searching for from the Mayan pyramids to the shores of Lake Titicaca. This mystical combination of Latino and Caribbean, with a little bit of Sam The Sham thrown in for a spicy flavor, has evolved into a style Joe has termed "Tequila Reggae". This influence can be heard on several of his recordings including "Dia de Los Muertos", "Hot Sun", and "Hay Te Guacho Cucaracho".
In early 1996 Joe's song "Tell Me" was recorded by The Texas Tornados - and sung by Freddy Fender - on their CD '4 Aces'. His music has been placed on numerous movie soundtracks including "Breathless" with Richard Gere, James Gardners' "Rockford Files", and he also played on the 'Tin Cup' sound track. Joe King Carrasco has been involved in acting for many years but in 2009 he stepped into the roles of writer and director with the release of his first film "Rancho No Tengo". The soundtrack with the same name was released in 2008.
Joe "King" Carrasco was awarded The Buddy Award for Best Latin Artist in both 1979 and 1983. In 2003, Joe "King" Carrasco was inducted into the Austin Music Hall of Fame and in 2012 Joe was inducted into the Austin Music Hall of Fame for a second time with his band The Crowns. The Academy of Texas Music awarded Joe "King" Carrasco a Lifetime Achievement Award in March of 2012, and Joe was also honored with the Entertainer of the Year award by the Academy of Texas Music along with a Historical Significance Award.
When not touring, Joe "King" Carrasco can be found at his musical home in Puerto Vallarta, a Mex-Tex restaurant and bar called Nacho Daddy. Holding court at Nacho Daddy gives Joe King a palace to rock his Tex-Mex and transport those who drink the magic flavored "margaritas" to a place where the "Party Weekend" goes on forever.
Recently the music legend teamed up with Colectivo Chihuaha at a studio deep in the heart of Jalisco - high up in the Sierra Madre mountains-in what's arguably the King's magnum opus, Beers Bars & Guitars, his first studio record in the UK in over 37 years on the Alternative Facts label - a quintessential-but-modern Tex-Mex platter - with the "La Bamba " style groove of "Carrera Larga" leading the charge!
Tickets:
All floor and standard balcony seats $20 advance; $25 day of show;
Balcony box seats $40 advance; $50 day of show (Note: box ticket includes concessions).