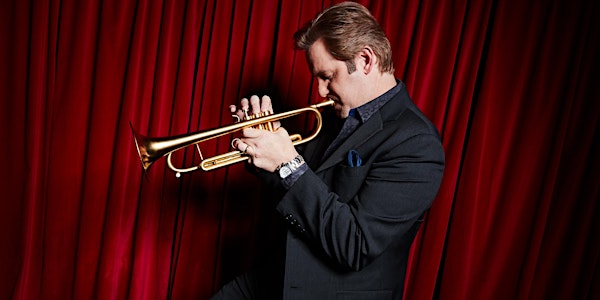 Joe Gransden Holiday Special with guest Blues Legend Robin Latimore
Joe Gransden Holiday Special with guest Blues Legend Robin Latimore at Eddie's Attic in Decatur, GA!
When and where
Location
Eddie's Attic 515 B North Mcdonough Street Decatur, GA 30030
Performers
Headliners
More Performers
About this event
1 hour 30 minutes

ALL AGES

Mobile eTicket
Joe Gransden
Band leader Joe Gransden has performed worldwide and released 17 CDs under his own name. Renowned first for the hard bop approach of his trumpet, Gransden's singing voice has been compared to that of Chet Baker and Frank Sinatra.
"When I first heard Joe nine years ago, I immediately thought of Chet," says Jazziz magazine critic James Rozzi, "but lately his voice has taken on its own style with a deeper resonance. His trumpet has always alternated lyricism with an aggressive, angular approach. He has the ability to cover the gamut of emotions."
Joe is from just north of Manhattan, New York. Coming from a family full of musicians, Joe's introduction to music came early on through his father, a gifted singer and pianist. His grandfather was a trumpeter of merit, playing professionally his whole life throughout New York. On his mother's side of the family was the piano virtuoso Carmen Cavallero.
"Music has been a part of my life as far back as I can remember," says the unassuming Joe Gransden. "I can remember practicing with my father, and eventually him taking me along to sit in at jam sessions. Early on I developed a respect for individuals like my father whose lives revolved around music. While still in high school, I knew that music was the life I would choose."
Not long after high school, Joe was on the road as a sideman with the big bands of Tommy Dorsey and Glenn Miller. A number of A.F.M. contracted sideman gigs include Barry White, The Moody Blues, Kenny Rogers, The Temptations, Aretha Franklin, The Whispers, etc. Eventually moving to New York City, he performed with numerous groups, including sub work with Toshiko Akiyoshi and Chico O'Farrill at the famous Birdland Jazz Club. Meanwhile, Joe formed his own group, which performed in Brooklyn each week and included the venerable guitarist Joe Cohn and ex-Betty Carter bassist, Matt Hughes. "Having my own group and being fortunate enough to travel, play, and record has been a dream come true," says Joe.
"Exploring the music with a steady group of great players has enabled me to continually grow." Joe Gransden growing legion of fans around the country have obviously taken note. In Atlanta, where Joe plays steadily 5-6 nights a week in as many venues, his loyal following includes an array of people from blue-collar workers to upper crust businessmen and businesswomen who all share a love of good music.
Like many developing jazzmen, Gransden's early influences, which include Kenny Dorham and Miles Davis, were easily recognizable in his playing throughout his formative years. "Emulating the jazz greats is always the very first step," says the historically-rooted Gransden. "But obviously, in order to be true to myself—who I am, pwhat I believe in, my family background—I need to have a sound that's my own. It's taken me until recently to hone in on that voice and explore its potential. One of the truly enjoyable things about my career has been finding that my audience appreciates my individual talents."
A widening schedule has found Joe performing the 1st and 3rd Tuesday of every month at Roaring Social Music venue in Atlanta w/his 16 Piece Big Band , The Jazz Corner in Hilton Head, South Carolina, The Ritz-Carlton at Reynolds Plantation, Eddie's Attic, The Museum of Art and Design in midtown Manhattan, Spivey Hall in Atlanta, Ga and Tehema Golf Club in Carmel, California (where Joe regularly plays events for Clint Eastwood). Joe also recently released his new Big Band recording entitled "Go Getta"! The title track was written by Kipper Jones and features Kenny G on tenor saxophone. The CD has been getting great reviews and lots of airplay around the country. Pick your copy up today on Joe's website, ITUNES, CDBABY etc....
www.joegransden.com
Robin Latimore
Robin started singing as a little girl for devotion at her mother's revival services and in church. "When your mom is the minister, you don't have a choice". It was her parents who sparked her musical interest. Her dad
had a passion for traditional and contemporary jazz as well as big band swing, and her mom pushed gospel and inspirational music. Together, Robin developed a love for these two genres more than any other.
She is a graduate of The Fort Valley State College where her talent was nurtured and requested highly. After winning several talent competitions there, people started noticing that this young lady had talent. She joined her first band in 1988. The Darren Winters Ensemble displayed a huge array of different music styles and this was something that sparked Robin's interest in singing more than one type of music. She is no stranger to R & B, Rap, Country Western, and other alternative genres. She is heavily influenced by her idols Phyllis Hyman, Layla Hathaway, Oleta Adams, The Clark Sisters, Kim Burrell, Maysa, and Jennifer Holiday and has shared the stage with jazz greats Johnathan Butler, Rachelle Ferrell, Michael Franks, Phil Perry, and Jeff Lorber.