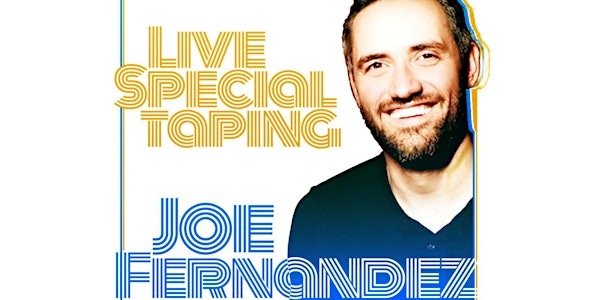 Joe Fernandez Live Comedy Special Taping at Laugh Factory Chicago
Join us for a special event as Laugh Factory favorite, Joe Fernandez, tapes his live comedy special in front of a packed house!
When and where
Location
Laugh Factory Chicago 3175 N. Broadway Chicago, IL 60657
About this event
Join us for a special event as Laugh Factory favorite, Joe Fernandez, tapes his live comedy special in front of a packed house!
Joe Fernandez is a half-Cuban half-Irish (or Cubish) comedian and actor. Growing up in Texas he had an affinity for the sport of baseball and dreamed of one day playing for the Houston Astros. When his body didn't grow up with his dreams, he moved to the performing arts where muscles aren't necessary. Joe has been performing stand-up comedy over the past 10 years where he's taken his off-stage persona of intolerable presence and morphed it into his on-stage persona of lovable jerk. He satirizes through absurdity and is facetious to a fault. He has performed in numerous comedy festivals such as Chicago TBS Just For Laughs Fest, the Boston Comedy Fest, the Memphis Comedy fest, Chicago Sketchfest and he was a finalist for the Andy Kaufman Award. He's a regular on the Chicago comedy scene having featured at Zanies, Laugh Factory, Comedy Bar, and the Improv Schaumburg. If you're not in the same area as Joe, you can always hear him on his podcast 30 Characters.
Age restriction: 18 years and over 2 drink minimum per person (can be non-alcoholic or alcoholic beverage). 18% service fee will be attached to drink tabs and will be distributed to service staff.
Call us at 773-327-3175 if you have any questions!
Q. What time should we arrive at the club if we have reservations?
We recommend arriving 30 minutes prior to the show. This is to ensure safe seating and social distancing while entering theatre.
Please have your email confirmation pulled up on your phone.
Q. If we have reservations, do we still need to wait in line?
We are working to ensure there is no significant waiting in line and patrons are sat in a timely
Q. What is the age limit to get in to the club?
Our club is 18 and over unless otherwise specified. You must be 21 and over is to purchase alcohol.
Q. What's the parking situation?
Street parking is available throughout the area. However, public transit, ridesharing apps, and taxi services are highly encouraged.
Q. What is your dress code?
Have your face mask or request at the door.
Q. If my friends all bought tickets separately, can we still be seated together?
As long as your party arrives together, you will be seated together if enough seats are available together. After the start of the show, any open seats will no longer be held.