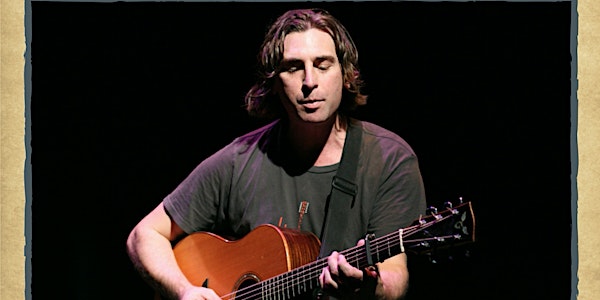 Joe Crookston Performs at Evergreen House
When and where
Location
Evergreen House Concerts Evergreen Avenue Plainfield, NJ 07060
Description
CANCELLED
DUE TO THE HEALTH CRISIS
WE PLAN TO RESCHEDULE FOR NEXT SEASON
************************************************
Evergreen House Concerts
Presents....
Joe Crookston

Check out these short videos:
*************************************************************************
"Joe is one of THE most exciting performers out there today. Smart, funny, accomplished, passionate…magnetic….he enthralls and uplifts people in a way few other artists can. Really…I have been at this a long, long time….and I rarely see this combination in a young artist. This is an artist that is being propelled forward via the Folk-DJs, word of mouth, grassroots…his fans telling friends…a real buzz, not manufactured hype. It is very exciting to be working with an artist like Joe: they don't come along all that often."
~ David Tamulevich, Tamulevich Artist Management
About Joe Crookston
From Ithaca, NY…
Songwriter, guitarist, painter, fiddler, slide player, eco-village member and believer in all things possible. Named 2016 Folk Alliance International Artist-in- Residence and signed to I Book Shows along with David Francey and Irish Mythen. His songs are being made into films.

He'll surprise you and awaken the cynics. He's plumbing for lyrical gold like a social archeologist. His songs are universal, his rhythm infectious and in concert, he is funny as hell one moment and transcendent the next.

JOE BELIEVES IN STORIES
Come to a show. Mystical, historical, and humorous roads. Lyrical cinematography. Short 4:00 films. Visual, artful and human. Brooklyn in July, Oklahoma towns, rattlesnake tails, turbary thieves, Galway heather, meter maids and drunk roosters. At the end of the night, you'll leave inspired.

THERE IS A LONG NOTE & JOE IS REACHING FOR IT
"The Long Note" is a phrase in Irish culture. "The Long Note" is that place of resonance and transcendence where the music, the voices, the instruments, and the community ALL come together and unite.

Whether he's picking his 48 Gibson, weaving through lap slide songs or looping his fiddle, he will draw you in. It happens every time. Watch a YouTube video. It's good, but it's not the same. You gotta come to a show. With unwavering courage to be himself, he is literate, poignant and funny as hell.

Joe lives in Ithaca NY, and tours regularly in the US, Ireland and Canada.


*************************************************************************
This will be a Pot Luck Affair!
Pot Luck 'Hors d'oeuvres and Desserts'
Please arrive at 3:00 PM to share in food and conversation followed by the concert, which starts at 4:00 PM.
Coffee will be on hand, but please participate in the potluck by bring something awesome to share with the group, like Food, Wine, Beer, dessert, etc.
Get your tickets now!

Important! The actual street address will be shared by email a few days before the concert.
*************************************************************************
Save the dates!

Apr 19 The Kennedys (Yup!)
May 17 LipBone Redding (OMG!!)
Mid-Year Break
Oct 18 The Everly Set (THEY ARE BACK!)
Nov 22 Lui Collins (Missed her!)

Dec TBA
Jan TBA
Feb TBA
Mar 21 Suzie Vinnick (She Rocks!)
Apr 18 Annie Sumi (Fresh, Unique and Amazing!)

May TBA