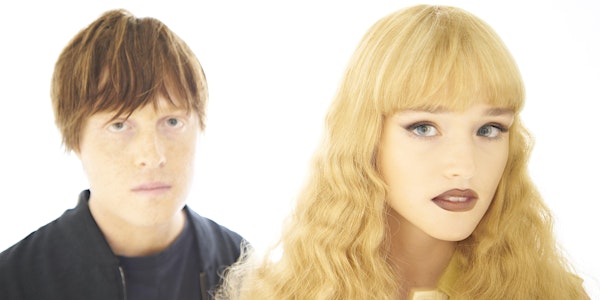 Location
DC9 Nightclub
1940 9th St NW
Washington, DC 20001
About this event
Proof of Vaccination REQUIRED
DC9 will require proof of vaccination for entry. Physical card or digital photo will be accepted. Proof of vaccination must match name on photo ID and will be checked at the door.
You can find more information HERE.
Things change quickly and we are all in the same boat trying to navigate and do our best to keep our concerts and communities safe. We appreciate your patience and understanding with our staff as we navigate this together. Thank you for your cooperation & continued support!
This is an ever changing situation and we reserve the right to change these policies at any time.
Jockstrap

When Georgia Ellery and Taylor Skye make music as Jockstrap, the process and result has one definition: pure modern pop alchemy.

Meeting in 2016 when they shared the same composition class while studying at London's Guildhall School of Music & Drama, Ellery and Skye founded Jockstrap as a creative outlet for their rapidly-developing tastes. While Ellery had moved from Cornwall to the English capital to study jazz violin, Skye arrived from Leicester to study music production. Both were delving deep into the varied worlds of mainstream pop, EDM and post-dubstep (made by the likes of James Blake and Skrillex), as well as classical composition, '50s jazz and '60s folk singer-songwriters.

The influence of the club and a dancier focus, which was hinted at on previous releases, now scorches through their new material like wildfire. Take the thumping, distorted breakbeats of '50/50' – inspired by the murky quality of YouTube mp3 rips – as well as the sparkling synth eruptions of brand new single 'Concrete Over Water', as early evidence of where Jockstrap are heading next.

Jockstrap's discography is restless and inventive, traversing everything from liberating dancefloor techno to off-kilter electro pop, trip-hop and confessional song writing; an omnivorous sonic palette that takes on a cohesive maturity far beyond their ages of only 24 years old. They have cemented themselves as one of the most vital young groups to emerge from London's melting pot of musical cultures.