Celebrating an historic victory for worker justice - the unionization of farm workers at the Pindar Vineyards in Peconic, Long Island!
About this event
SPACE IS LIMITED TO 85 ATTENDEES!
The fight to unionize farm workers dates back to the National Labor Relations Act of 1935, signed into law by President Franklin Roosevelt. This law allowed workers to unionize and prevented employers from retaliating against workers who joined a union — but agricultural and domestic workers were excluded, many of who were Black and continued to experience discrimination and retaliation for decades to come.
On July 19th, 2019, after nearly 2 decades of political advocacy and organizing, and over 8 decades of racist and exclusionary laws, agricultural workers in New York won the right to organize a union through the passage of the Farm Laborers Fair Labor Practices Act!
Then, on September 27th, 2021, Local 338 of the Retail, Wholesale, Department Store Union/United Food and Commercial Workers Union (RWDSU/UFCW) was certified by the state as the first union to represent more than a dozen farm workers at Pindar Vineyards!
Join us on Sunday, January 9th from 1pm-2:30pm as we celebrate this historic victory for farm workers, unions and Long Island, and honor Senator Jessica Ramos, sponsor of the 2019 Farm Laborers Fair Labor Practices Act, and the remarkable and inspiring partnership between Rural and Migrant Ministry and RWDSU/UFCW Local 338.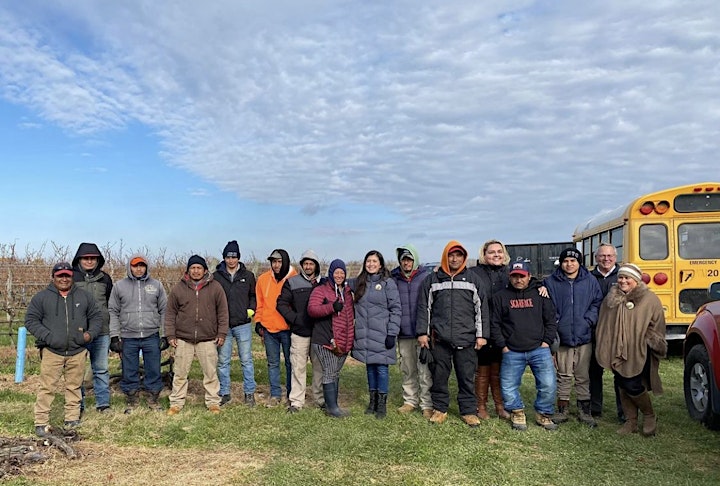 Organizer of Jobs with Justice Human Rights Luncheon
Long Island Jobs with Justice is a coalition of labor unions, community organizations, congregations and faith-based organizations, and students committed to protecting the rights of working people. We are committed to creating living wage jobs, supporting worker organizing, and demanding corporate accountability in our communities.