1000s of Jobs are up for grabs at the South Florida Job Fair on March 31st!
About this event
This is a multi-industry event you don't want to miss. Come ready to meet with employers looking to hire great candidates like you!
* Employers are hiring throughout Miami-Dade, Broward, Palm Beach, and Monroe County.
Attendees are encouraged to pre-register! We'll send you a reminder email one day prior to the hiring event.
Employers Include: ABM Vehicle Services Division, Allied Universal, American Express, American Express Travel & Lifestyle Services, ARC Broward, Arlo Hotels, Brightstar Credit Union, Broward Sheriff's Office, Cano Health, Carida Insurance, Castle Group, Cheeca Lodge Resort & Spa, City of Sunrise, CITY Furniture, Cox Media, Domino's, FLA Panthers, Generali Global Assistance, GuideWell, Healthtrust Workforce Solutions, Jiffy Lube, LendingOne, MobileMike, New York Life Insurance, Norwegian Cruise Lines, NPC Financial, Oyster Bar & Grille - Boathouse - Golden Lyon, Pharmsource LLC, Playa Largo Resort & Spa, Riverside Hotel, Seminole Police Department, Senior Healthcare Advisors, Sherwin-Williams, Sixt Rent A Car, South University, Southeastern College, The Academy, US Standard Products, Wilen Florida, Xtreme Action Park, and many more...
Tips for Job Fair Success: Dress professionally as if attending a job interview. Practice your personalized pitch which should summarize your skills and experience. Make a good first – and lasting – impression with each recruiter. Bring several copies of your updated resume or work history to the event.
Parking and Admission are FREE!
Pre-register today and receive notifications of any updates or changes to the event, and also information regarding upcoming events in your area. In addition to event specifics, by pre-registering and uploading your resume, companies exhibiting at the job fair can access your information, increasing your employment opportunities!
Interested in Recruiting? 
Looking for qualified candidates to fill your positions? Job News Job Fairs are the perfect place to meet hundreds of potential candidates, network with employers, and increase your company's exposure. For more information, call (954) 252-6640.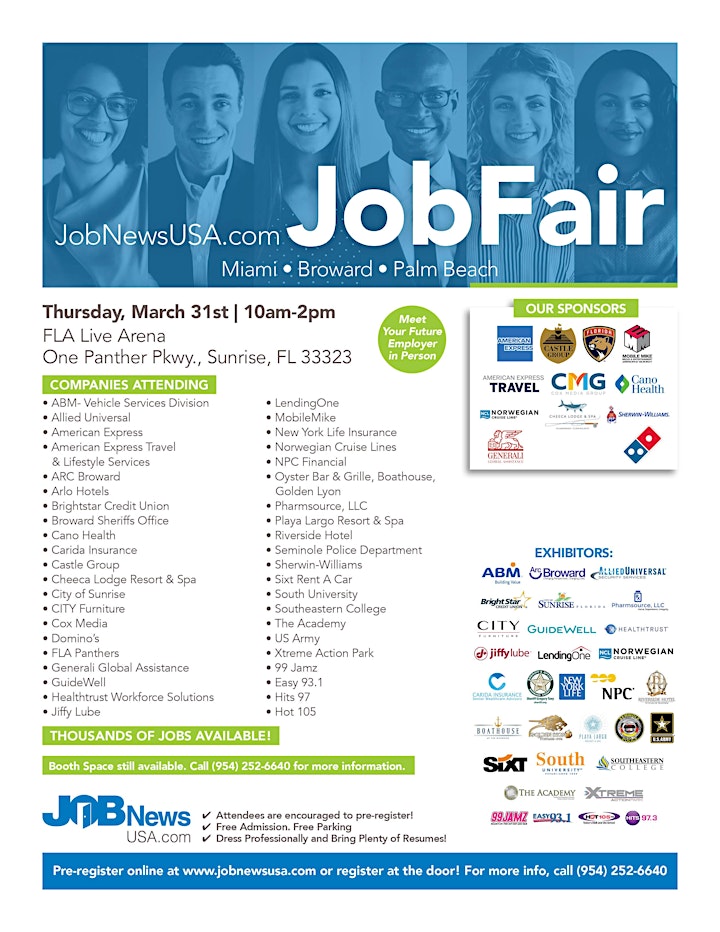 Organizer of JobNewsUSA.com South Florida Job Fair, 1000s of Jobs in Multiple Industries