Hundreds of Jobs are up for grabs at the Kansas City Job Fair on May 26th!
About this event
This is your opportunity to meet one-on-one with recruiters and hiring managers from the area's top hiring companies.

 Whether you're looking for an entry-level position or a more experienced management job, this hiring event will have something for you. Get in before these positions fill up!
Attendees are encouraged to pre-register! We'll send you a reminder email one day prior to the hiring event.
Employers: ACME Distribution, Aflac, AGC Glass Company, Allied Global Services, ASI- Automatic Systems Inc., Aviation Institute of Maintenance, Bennett Packaging Company, BMS Logistics, Casino KC, City Wide Facility Solutions, Comprehensive Mental Health Services, Croft Trailer Supply, DS Bus Lines, FedEx Freight, FedEx Ground, Fike, First Student Bus Company, Foley Industries, Heartland Sheets, Heavy Equipment Colleges of America, Ignite Medical Resorts, Integrity Locating Service, International Paper, JCPenney, Johnson County Clin-Trials, Kansas Army National Guard, Kansas City Public Schools, Kaw Valley Engineering, Landmark Event Staffing, Landmark Realty, Lansing Correctional Facility, Loomis, McLane Foodservice, Missouri Division of Social Services, Missouri State Highway Patrol, Orizon Aerostructures, Peoplelink, PRA Health Sciences, QPS Employment Group, Raising Cane's Chicken Fingers, Safe Haven Security - ADT, SMX Staffing / Staff Management, SP Plus, Sproutt, Stahl Specialty Company, SYGMA, T-Mobile Center, Taylor Crane & Rigging, The Sheraton Kansas City Crown Center, The Sheraton Overland Park at the Convention Center, The Westin Kansas City Crown Center, US Marine Corps Community Service, United States Postal Service, Valvoline Instant Oil Change, Vet Center, Waffle House, We Care Home Health Services, Westmor Industries, YRC Freight, and more...
Tips for Job Fair Success:
• Dress professionally for the event.
• Practice your personalized pitch which should summarize your skills and experience.
• Make a good first – and lasting – impression with each recruiter.
Parking and Admission are FREE! Pre-register today and receive notifications of any updates or changes to the event, and receive information about upcoming events in your area.
Health & Safety Guidelines - We remain committed to your health and safety during this time and ask that you follow the below guidelines at the event:
• As an attendee, it is recommended that you wear a mask at all times (not required).
• Please refrain from shaking hands with employers.
• We ask that you utilize hand sanitation stations throughout the venue.
• If you are sick, do not attend.
Interested in Recruiting? Looking for qualified candidates to fill your positions? Job News Job Fairs are the perfect place to meet hundreds of potential candidates, network with employers, and increase your company's exposure. For more information, call (913) 383-1100.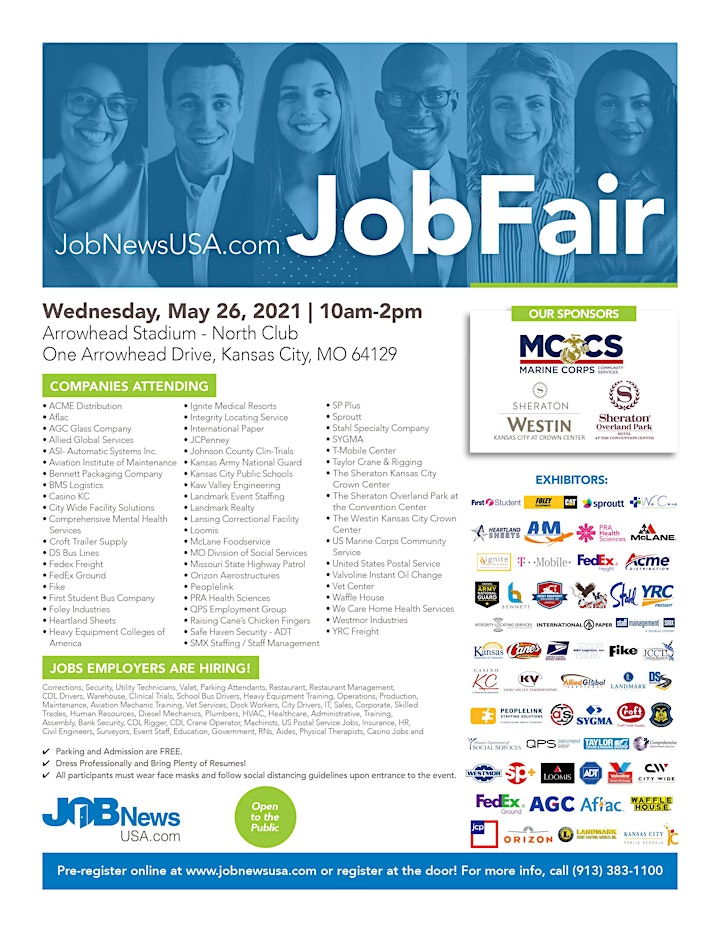 Organizer of JobNewsUSA.com Kansas City Job Fair