Description
ATTN: JOB SEEKERS! Are you looking for a new career opportunity? Tired of browsing online job boards all day long, only to get lost in a sea of resumes? We can help! We have over 20 years of experience in connecting job seekers just like you with top local employers.

Pre-Register now to attend the JobNewsUSA.com Columbus Job Fair! Come meet face-to-face with local recruiters & hiring managers who will be onsite and ready to offer on the spot interviews and job offers!

WHEN: Wednesday, September 12th
TIME: 10am - 2pm
PLACE: Aladdin Shrine Center

Whether you are a seasoned executive-level professional, just beginning your career, or anywhere in between, JobNewsUSA.com Job Fairs can connect you with as many employer contacts in four hours as you would make in weeks of job searching on your own.

Here's how it works: We will welcome you and get you signed in. You'll receive a directory of employers and their job opportunities. You will then be free to meet with hiring managers from each company that has attracted your interest. At the same time, you will be able to network not only with various employers, but also with other professionals.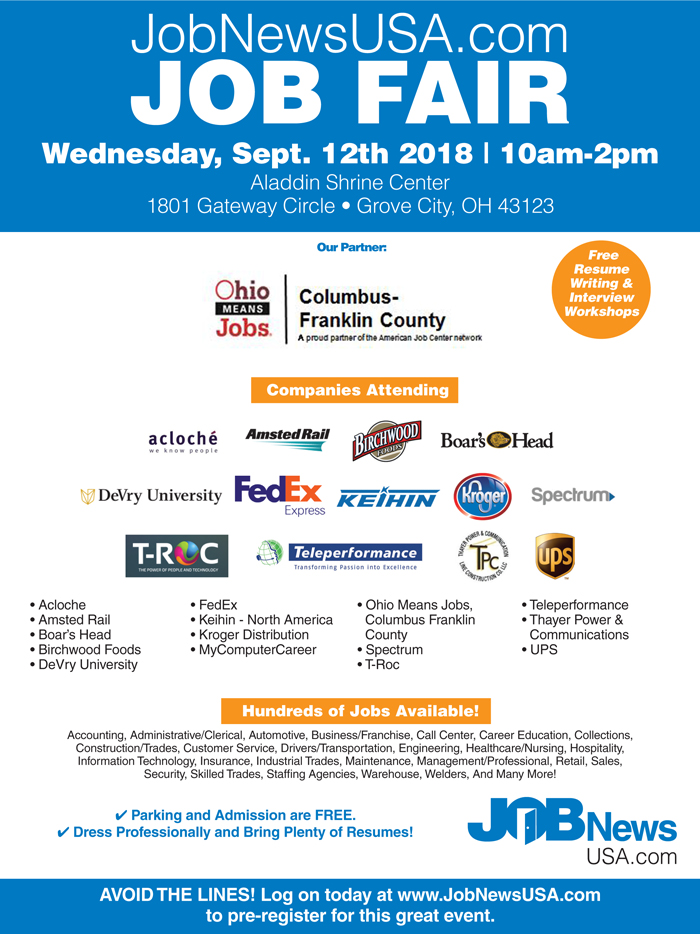 *We'll continue to add participating companies!

In order to make the most of your time at our event you should be prepared to make a positive impression. We recommend that you:

• Dress as if attending an interview for the position you're interested in
• Bring at least 10-20 copies of your updated resume
• Display an engaging and motivated attitude

Parking and Admission are FREE.

Click here to pre-register today and reserve your spot at this premier hiring event! You will receive a reminder email two days prior to the event. You can also register at the door the day of the event.

Interested in Recruiting?
Looking for qualified candidates to fill your positions? JobNewsUSA.com Job Fairs are the perfect place to meet hundreds of potential candidates all in one place. For more information, call (614) 310-1700.