Description
CALLING ALL JOB SEEKERS! 100's of Jobs are up for grabs at the Austin Job Fair! Meet with Recruiters from Dozens of TOP Companies.

WHEN: Thursday, April 19th, 2018
TIME: 10:00 AM – 2:00 PM
PLACE: Crowne Plaza Austin

For details and to pre-register visit: www.JobNewsUSA.com

Meet one on one with recruiters & hiring managers who are now hiring for IMMEDIATE OPENINGS! Available positions range from entry level up to professional & management.

Some employers will offer on the spot interviews and job offers, this is a unique opportunity to get guaranteed face time and make personal connections.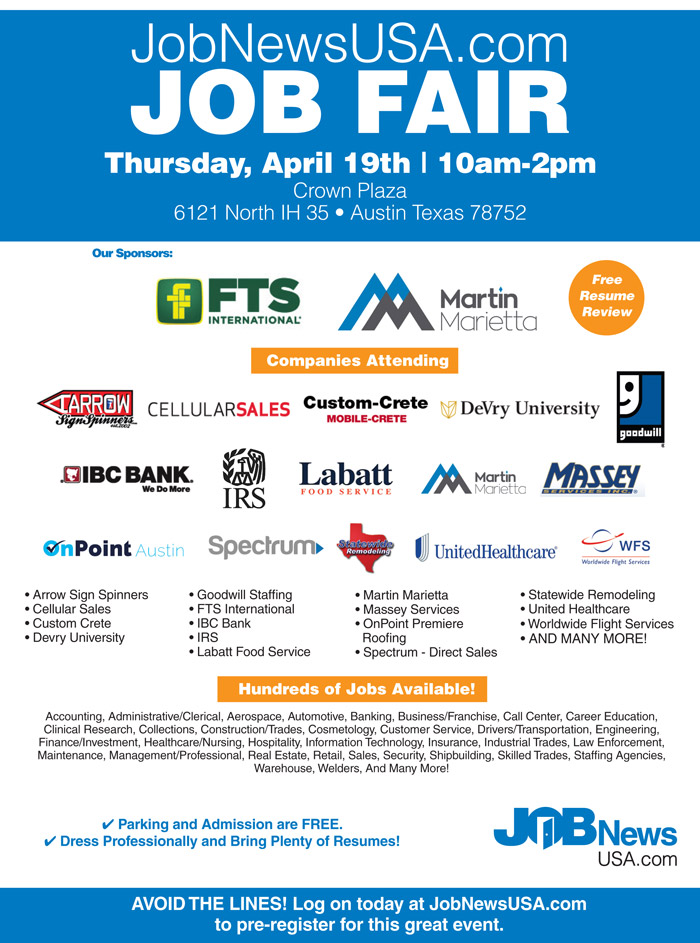 Companies Attending:

FTS International --- Wireline Engineers, Equipment Operators (Class A CDL Preferred, Diesel Mechanics, Wireline Operators (Class A CDL Preferred or Experience), Electronic Technicians

Martin Marietta --- Concrete Truck Drivers

Amica Insurance --- Associate Sales Representatives, Bilingual Sales Representatives

Aarrow Sign Spinners --- Sign Spinners

Cellular Sales --- Sales Representatives

Custom Crete --- Class A CDL Drivers, Diesel Mechanics

Devry University --- Students

GoodWill Staffing --- CDL Drivers, CNA Caregivers, Customer Service, General Labor, Administrative, Warehouse

IBC Bank --- Tellers, Sales Associates

IRS --- Seasonal Tax Examiners, Seasonal Clerks, Seasonal Data Transcribers

Labatt Food Services --- Entry Level Sales Rep, Home Every Night Local Route Drivers

Massey Services --- Pest Control Technicians, Sales Representatives

Onpoint Premiere Roofing --- Sales Representatives

United Healthcare --- Independent Sales Agents

Worldwide Flight Systems --- Ramp Agents


✔ Parking and Admission are FREE.
✔ Dress Professionally and Bring Plenty of Resumes!

SKIP THE LINES & PRE-REGISTER TODAY! You will receive a reminder email two days prior to the event.

Pre-Register at: www.JobNewsUSA.com
For more information call (210) 785-9300.