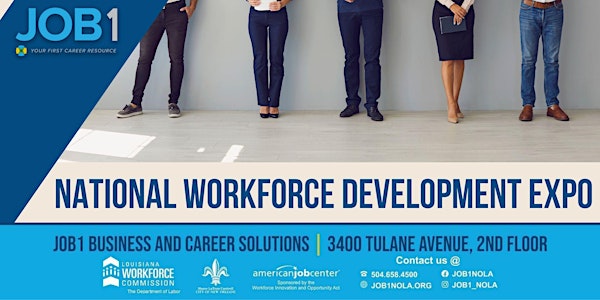 JOB1 National Workforce Development Expo
Join JOB1's FREE job fair where jobseekers and employers can get instant exposure and make direct engagements to new opportunities!
When and where
Location
Booker T Washington High School Gymnasium 1201 South Roman Street New Orleans, LA 70125
About this event
Whether you're a jobseeker looking to build your career, change industries, and earn certifications and experience, or you're a recruiter looking to promote your services and make direct contact with jobseekers, or anything in between, we're here to keep you connected to what's happening in New Orleans' growing workforce.
Location:
Booker T. Washington High School Gymnasium
1201 S Roman St.
New Orleans, LA 70125
Date: Saturday, September 24th
Time: 10am-1pm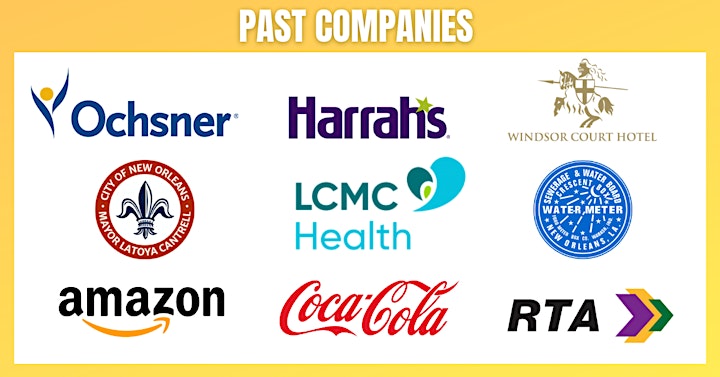 FAQ
Q: Do I need to be registered to attend?
A: We strongly recommend you register to keep up to date with event details, however registration is not required to attend-- everyone is welcome!
Q: Why should I attend a JOB1 job fair?
A: All JOB1 job fairs are FREE to jobseekers and employers. If you are looking to start your career or change industries, you can make direct contact with recruiters from dozens of companies ranging from hospitality, transportation, administration, and healthcare (just to name a few)!
If you don't see anything that interests you at any of our events, you can directly connect with a JOB1 member at the fair or schedule an appointment on the JOB1 site to engage in a 1-on-1 and be connected to our network of 100s of businesses!
Q: What companies are attending?
A: 2 days prior to the event, registered attendees will be emailed a list of registered employers and available jobs.
Q: What do I need to bring?
A: Come dressed business professional or business casual and bring your resume.
No resume? No problem!
Job1 offers free resume services where you can get feedback to tailor it to your targeted industry or create one completely from scratch! You can schedule an appointment on the JOB1 site to meet with a staff member.
Q: Do I need to be actively job searching to attend?
A: No. Although the job fair revolves around recruiting, it's also a chance to explore new opportunities and network.
Did you know?
JOB1 offers assistance with resumes, job search, job training, and much more; visit our site or our office!
JOB1 Location
3400 Tulane Ave., 2nd floor
New Orleans, LA 70119
Monday-Thursday 9am-5pm, Friday 9am-1pm.
Website: https://job1nola.org/