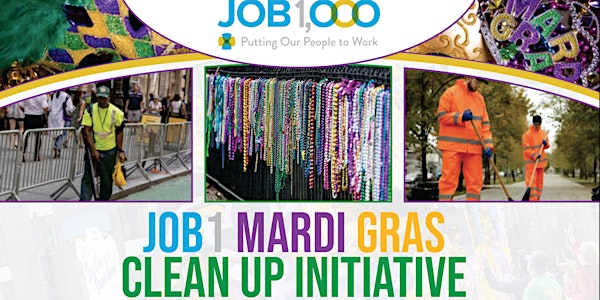 JOB1 Mardi Gras Clean Up Registration 2023
Get a temporary job during Mardi Gras 2023 with JOB1 starting @ $15/hr!
About this event
Mardi Gras is back - and so is the JOB1 Mardi Gras Clean Up Initiative!
Connect with JOB1 and the City of New Orleans Dept. of Sanitation to get temporary laborer positions starting @ $15/hour during the Mardi Gras 2022 season.
Dates of work are between February 9th through February 21st
Must have a valid ID and Social Security Card
Must be willing to work outdoors
Register and sign up for an orientation to learn more about the opportunity here, and a Team Member will follow up with you.
Follow-up Orientation Meetings (which will be held in February) are required for participation.
Limited space available. Valid State ID/Driver's Licence and original Social Security Card are required. Contact us and learn more info @ JOB1nola.org