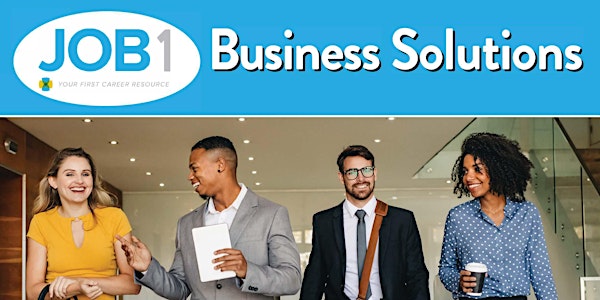 JOB1 Employer/Business Solutions Pre-Registration
JOB1 Business and Career Solutions offers Business Solutions to local companies and organizations.
About this event
JOB1 Business and Career Solutions Center offers a host of Business-related services to assist your organization. Register here to participate in our upcoming Job Fairs. You can also register for additional services including, but not limited to:
Employee Recruitment Services and Hiring Events
On-the-Job Training (Wage subsidies to employers for costs associated with training employees on the job for up to six months.)
Customized Training (Training designed to meet the special requirements of an employer or group of employers. Please note: The employer must commit to employ or continue to employ an individual upon successful completion of the training.)
Interview Space at the Career Center
Employment and Labor Market Statistics
Information on Tax Incentives
Skills Assessments
Pre-register here, and a Business Solutions Consultant will follow up.
We look forward to assisting!