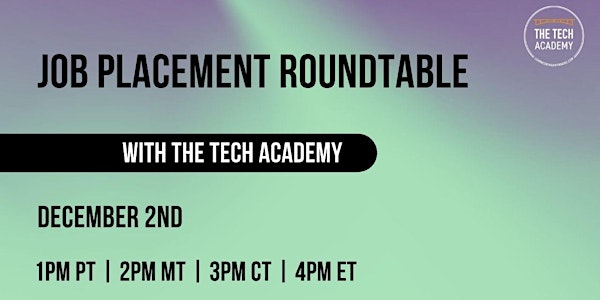 Job Placement Roundtable with The Tech Academy
Join us on Friday at 1 pm Pacific, 2 pm Mountain to network and discuss working in tech!
About this event
Are you having trouble with your job search? Are you stuck and in need of some motivation? Maybe you just don't know where to begin.
This event will be an open discussion where you bring all of your questions about how to land a tech job.
Join us Friday, December 2nd at 1 pm Pacific Time (2p MT, 3p CT, 4p ET) in our Google Meet room.
This event is all about viewer participation, so bring all of your job search-related questions.
Can't make it live? We will be posting the recording to our Tech Talks playlist on our YouTube Channel: https://bit.ly/TTA-techtalks
Don't miss this great opportunity to learn and network!