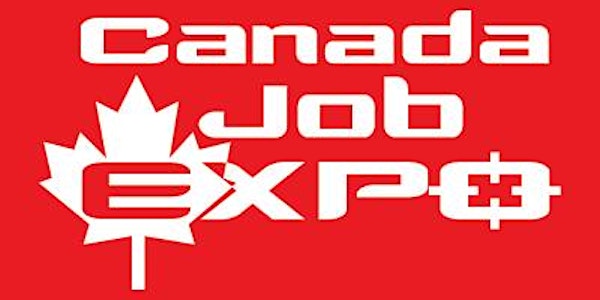 Job Fair Toronto June 2023 In-Person / Physical Event (Free Admission)
Whether you are a graduate, unemployed, new to Canada, a seasoned veteran looking to change careers, or even a student new to the workforce,
Date and time
Tue, Jun 27, 2023 11:00 AM - 2:00 PM EDT
Location
North York Central Library (Auditorium located on the 2nd Floor) 5120 Yonge Street Toronto, ON M2N 5N9 Canada
About this event
Disclaimer: For any event related details please check our site www.canadajobexpo.com first. Please always verify all details from our main site rather than third party websites like these, any last-minute or emergency updates (weather related updates especially in winter) are always promptly updated on our website. We are not responsible for information posted on third party websites themselves on our behalf. Thank you. You may also register directly on our website https://canadajobexpo.com/job-seekers
_______________________________________________________________________________________________
If you want to land a job, get interviews, talk to HR Professionals in person, get noticed and you are serious about getting a job, physical in-person events is the way to go. There is absolutely no substitute for physical in-person events, virtual events and online applications have reached a point of saturation as Employers are bombarded with job applications. Try a different approach - attend in person, make conversation face to face, impress and get hired!
Whether you are a graduate, unemployed, new to Canada, a seasoned veteran looking to change careers, or even a student new to the workforce, Canada Job Expo is a great place to begin your career path. Canada Job Expo provides plenty of information, job resources and discussions and opportunities for employment.
This expo is the most attended job and career event in the Greater Toronto Area with an environment of networking, learning and a day of professional interactions.
Our past events have included major Canadian employers like  Apple Canada, CIBC, Bell Canada, Canada Post, Desjardins, Moosehead Breweries, Toronto Police, Ontario Public Service (Ministry of Govt. Services) and a host of employers from Alberta, Manitoba, British Columbia as well as International Organizations.
(Please note the above paragraph says PAST employers, for a current list of exhibitors please check our website. The list will be updated as we receive registrations.) . These are listed as an example of the kind of participants we have had in the past, please do not attend the fair with the hopes of seeing all of them just because they are mentioned here, these employers will attend the event as and when they have a business need to hire more employees. Please keep two things in mind - the impeding Govt. employee strike and the recent layoffs, but again that does not mean there will not be any need for them to come and hire candidates but please have a clear and transparent picture. Most of all please be updated with recent job market news so you get a clearer picture, you are most welcome to come to our event and join our workshops and talk to us one on one, we offer free one on one career counselling none of the other job fairs in Canada offer.
Please also join our mailing list on our homepage to receive event updates.
 This expo brings Canadian employers, various organizations and educational institutions together with skilled workers and students for a day of networking, learning and employment advice. There are free workshops available to everyone who attend this one-day event. For further information, visit the website www.canadajobexpo.com
This event is FREE to job seekers and those in between careers. Everyone is welcome to attend and gain something out of it. There are no restrictions on who can attend as long as you are in Canada.
For organizations looking to register a booth with us, please contact us for further details, cost, registration process etc.
If you are outside Canada we are unable to help you with invitation letters, visa help and/or job offers.
About the organizer
Talent Unleashed, Careers Realized, Life Transformed says it all. We have helped thousands of job-seekers land their dream jobs and hundreds of organizations find their ideal employees. Canada Job Expo is the Greater Toronto Area's leading Job and Career Expo.
Our clients include Government Ministries and agencies to Fortune 500 Companies. Exhibitors at Canada Job Expo have included organizations like Apple, CIBC, Royal Bank of Canada, Govt. of Canada, Govt. of Ontario, The City of Toronto, Bombardier/GO Transit/Metrolinx, Labatt Breweries and a host of employers from Alberta, Manitoba, British Columbia as well as International Organizations from China, United States, United Arab Emirates and South Korea. 
Our events usually begin with a line-up of motivated, qualified and dedicated candidates. We outperform any other job or recruitment events. Helping connect job seekers and organizations since 2010, 100+ events and over 500+ physical and virtual webinars to our credit. We have had Amazon Best Selling Authors, Billionaires to CEO's speak and empower thousands of job-seekers at our many events.
To exhibit at our physical or virtual events please email us with your organizational details.
For candidates looking to attend our event(s) please go to the ticket section and register.