JOB FAIR / SEMINAR / TRAINING: Learn2Trade Bitcoin & Altcoin
Description
Ortigas Center, Pasig City
(02) 621 42 74
0916 643 0050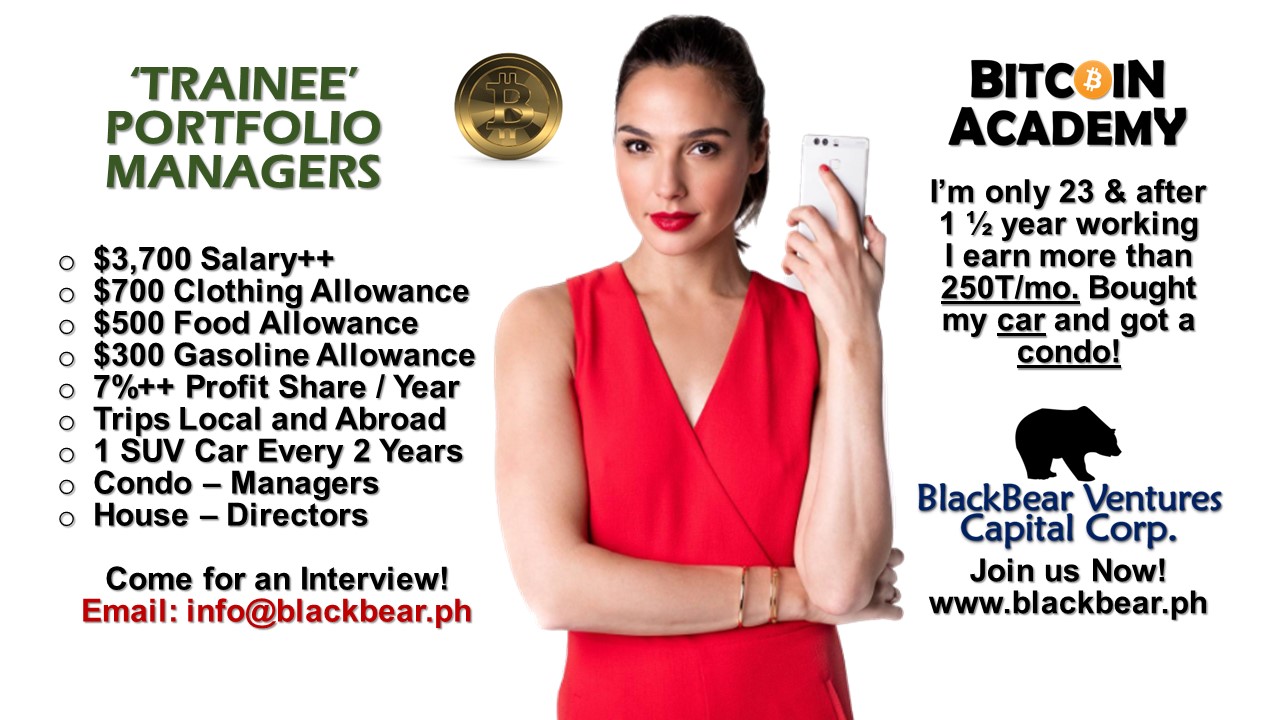 1. If you are 20 - 23 Years Old
2. Graduate of an Exclusive School
3. From a Middle Class Family
5. If you are Looking for a Job
** FREE Consultation after the JOB FAIR / SEMINAR / TRAINING
** FREE $100,000 DEMO Account for PRACTICE TRADING
"
How to make Php 5k - 50k everyday -- and on some days..more. We will teach you how to 'Learn2Trade' and earn the same. You will learn how to 'secure your family and fortune' from the next global crash. It's coming and it's fatal!"
"Back in the year 2000, it was stocks -- the dot.com bubble. In the year 2008, it was stock market and real estate -- the global financial meltdown. This time, it is stocks, real estates, bonds and treasury bills -- debts issued by countries using fiat currencies.."
"And they are all in some of the biggest bubbles of all time. When these burst, it's going to be devastating for most people but it doesn't have to be devastating for you and your family."
1. Hidden Secrets: History of Money
2. What 95% of People Will Never Know About Money
3. Learn2Trade Bitcoin & Altcoin -- Unlimited Training,
Live Coaching and Mentoring
** Chart Reading: Identify Support & Resistance
** Fundamental Factors Affecting the Price of BTC
** Technical Analysis: Tools, Patterns & Indicators
** How to Trade: Centralized Platform i.e. Bitstamp
** Trading Plan: Entry Price & Exit Profit
** Financial Strategy / Rule
** Trade Like a Casino Owner
** Documenting Trades: Win vs. Loss / Habit
** Discipline, Patience & Emotionless Trading
** Different Altcoins: Different Strategies
** Profit from Trend: Cryptosurfing
** Profit from a Declining Market
** Powerful Candlestick Patterns
** How to Avoid Being Scammed on Altcoins
** ICO (Initial Coin Offering) Opportunities
** Self Trading vs. Managed Accounts
** Protecting your Bitcoin Off the Grid / Offline
** Legalities on Bitcoin & Altcoin Opportunities
We can interview and evaluate '3 applicants only' per day.
This JOB FAIR / SEMINAR / TRAINING is for 'middle class to upscale market' only.
Email / send first your resume / CV to info@blackbear.ph
(02) 621 4274
0916 643 0050
Date and Time
Location
20th Floor Strata 100
Emerald Avenue
Ortigas Center
Pasig City, NCR 1605
Philippines