Description
THE SECOND BATCH OF 2017 SCHOOL OF BUSINESS & JOB CREATION WILL BE FOR 3 WEEKS, THE TRAINING IS ONGOING AND YOU ARE TO START FROM COURSE ONE AFTER REGISTRATION.
MISS THIS PRACTICAL WORKSHOP AGAIN AND YOU SHALL HAVE TO WAIT TILL NEXT YEAR.
*BE AMONG THE NEW 200 VIBRANT GRADUATES/UNDERGRADUATES
*BE TRAINED ON 6 ECONOMIC MOVERS IN NIGERIA
*START-UP CAPITAL TO BE GIVEN TO PROMISING TRAINEES
*BUSINESS PATNERSHIP IN ANY BUSINESS THAT YOU LOVE TO VENTURE IN
*HOW TO CREATE YOUR OWN LUCRATIVE JOB.
*HOW TO MAKE MONEY LEGITIMATELY ONLINE DAILY
*HOW TO START A MINI IMPORTATION BUSINESS. YOU WILL BE GIVEN A PERSONAL COACH AND AN AGENT IN U.K OR CHINA (DEPENDING ON THE KIND OF PRODUCT YOU CHOSE TO IMPORT) & HOW TO SELL THEM WITHIN TWO WEEKS (MAX)
*HOW TO START AN OIL & GAS BUSINESS WITH ZERO CAPITAL
*HOW TO START & SUCCEED IN REAL ESTATE WITHOUT ANY PROPERTY OF YOUR OWN.
* MAKING MONEY FROM BLOG, YOUTUBE, FACEBOOK (PRACTICAL TRAINING))
*CERTIFICATE OF FINANCIAL INTELLIGENCE & JOB CREATION
* YOU WILL ALSO RECEIVE THE FOLLOWING PRACTICAL MANUALS:
1. "HOW TO MAKE MONEY ONLINE IN NIGERIA_STEP-BY-STEP" by Francis Tokunbo Momoh
2. "HOW TO MAKE A MILLION NAIRA IN 6 WEEKS"
3. FACEBOOK MARKETING SECRETS
4. MAKING MONEY WHILE SLEEPING_DETAILED PRACTICAL GUIDE
5. HOW TO HAVE A REGISTERED BUSINESS IN NIGERIA CHEAPLY
...AND A SECRET AND VERY PROTECTED MANUAL THAT CAN MAKE 10,000 NAIRA EVERY BLESSED DAY FOR YOU
SEE PICTURES FROM THE LAST BATCH OF 2016 SECRET BUSINESS SCHOOL BELOW:
NOTE: ONLY FIRST 200 INTERESTED INDIVIDUALS SHALL BE ACCEPTED THIS TIME AGAIN.
REGISTRATION IS ONGOING AT: NNDC Mall, Office No 10, Before Union Bank, Muhammadu Buhari Way, Off NEPA Round About, Kaduna, Kaduna State.
TRAINING VENUE IS SAME PLACE ABOVE, 24 HOURS POWER SUPPLY AND FULLY AIRCONDITIONED.
YOU ARE TO CHOSE WICH DAYS OF THE WEEK YOU WANT TO HAVE YOUR TRAINING.
FEE:
STUDENTS/NYSC: 5,500 Naira
OTHERS: 10,500 Naira Only (Before June 30th, 2017)
LATE REGISTRATION: 25,000 Naira (After Deadline)
YOU GET TRAINING FEE BACK IF YOU DO NOT MAKE 10,000 NAIRA ON THE TRAINING DAY AND VENUE.
FOR INQUIRIES: CALL 09053153933 or 07053097001
SEND EMAIL TO: career.emeditel@gmail.com


TO REGISTER:
STEP 1. GET YOUR TICKET FIRST BY CLICKING THE GREEN BUTTON ABOVE (REGISTER BUTTON)
STEP 2. PAY THE TRAINING/WORSHOP, MANUAL AND CERTIFICATE FEE AS IT APPLIES TO YOU. NOTE ONLY THOSE WHO MAKE PAYMENT ON OR BEFORE JULY SHALL BE GRANTED ACCESS. THIS IS BECAUSE WE NEED TO GET ALL THE CERTIFICATES READY BEFORE THE TRAINING DAY. THEREFORE, NO PAYMENT WILL BE TAKEN ON THE TRAINIG DAYS.
YOU ARE TO PAY THE TRAINING FEE INTO THE COMPANY'S ACCOUNT (DO NOT PAY INTO ANYBODY'S PERSONAL ACCOUNT ASIDE THE COMPANY ACCOUNT BELOW. ANYONE WHO CLAIMS TO BE FROM THE COMPANY AND DEMANDS FOR A PAYMENT TO HIS OR HER BANK ACCOUNT ASIDE THE COMPANY'S ACCOUNT IS A FRAUDSTER. PLEASE TAKE NOTE)
CHECK YOUR E-MAIL AFTER FILLING THE BRIEF REGISTRATION FORM.
COMPANY'S BANK ACCOUNT DETAILS:
BANK: FIRST BANK OF NIGERIA PLC.
ACCOUNT NAME: E-MEDITEL SALVAGE ENTERPRISES
ACCOUNT NUMBER: 3108510772
NOTE: Payment MUST be made on or BEFORE 10th MARCH. After payment, you must send your payment details to: emeditelservices@gmail.com
If you are skeptical or scared about paying before the workshop, kindly call 07053097001 to be directed to OUR OFFICE AT:
NNDC Mall, Office No 10, Before Union Bank, Muhammadu Buhari Way, Off NEPA Round About, Kaduna, Kaduna State.
Visit our office above to meet with our staff & representative before making any payment. But we assure you of the security of paying to our company account above.
WORDS FROM THE C.E.O
"TOPIC: The Three Way Approach To Financial Freedom
1. Find A Problem (Around You)
2. Package A Solution (For The Problem)
3. Give The Solution A Market Value.
If you can effectively follow the above steps, you will never be poor again. You will never look for a job and you will never have to answer to any boss.
Financial freedom is not when you have too much money.
Financial freedom is when you have immunity over the control of finance.
The control of finance are in two ways;
1. The Need to Make Money
2. The Need to Keep Making Money.
The need to make money is seen in those who struggle to pay bills, we call them poor.
The need to keep making money is seen in those who can pay their bills but have to continuously work very hard to live their dream lives.
The state of Financial freedom is that point in life where you have no sense of pressure on you to make money or to keep making money. Why? Because you have the knowing that whether you sleep 24 hours, your cash inflow is on auto pilot.
Your money tree will keep bearing fruit.
To have your cash inflow on autopilot, there must be something you have that is is in constant demand. This is the SOLUTION.
To be in demand, it must be solving a PROBLEM.
For the demand to be constant and consistent, the MARKET VALUE must be fair enough.
I offer to coach you on legitimate ways to start your journey to financial freedom.
What if you can join us in this training wherever you are without traveling to meet me in the company? (CALL US TO KNOW HOW)
Nigeria has over 180 Million people, these people have different needs and problems. Which of them are you solving?
Imagine that you gave solution to just 1000,000 people's problems and the market value of the solution is one naira.
You will be making 1000,000 naira every day or week. At this point you will remember Dangote Right? You could be next.
Of the 180 Million Nigeirans, We carried out a research and discovered that about 89 million Nigerians use the internet daily (Google, Facebook, Youtube, Blogs etc.)
What are they using it for?
They are looking for INFORMATION.
These people make subscription every month just to surf the web and use the social media. Ever time you use the web, someone receives a bank credit alert. Not Mark Zuki or the owner of Google alone. I mean people like you and me.
What will you say if after today, you stop wasting money online and start making money with the same monthly subscription you make before now.
What if you provide the solution to the information need of just 500,000 people out of the 89 million?
What if the solution is given a market value of just 1 naira?
What if 500,000 people pay you 1 Naira every day for this information continuously for the rest of your life ?
Do the maths by yourself.
The internet is the largest market in the world & the nerve of business is market (where to sell what )
I will be giving any all the registered serious minded individual, extra 5 days of free online coaching (1 hour per day).
I will sacrifice my TIME but you will also do something to make it easy for me to help you. You must be willing to READ.
What you need for the coaching:
1. A Private room (absent distractions)
2. A smart phone or any device that can access the internet.
3. An Internet Connection.
4. The 6 E-Books On the picture below.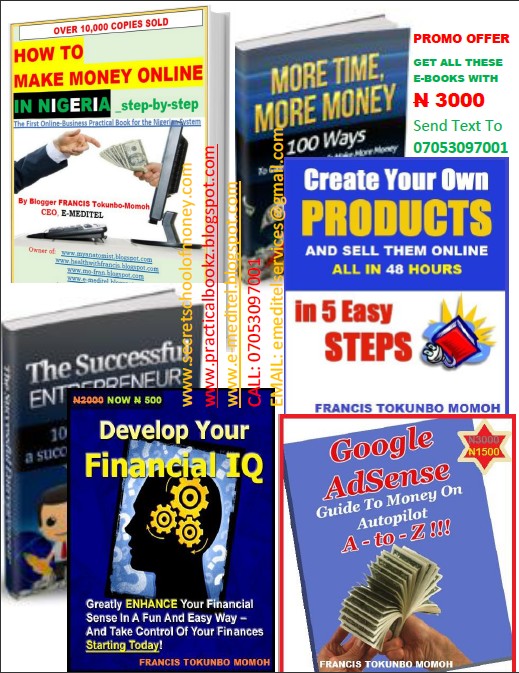 Only First 50 people to register shall enjoy this extra benefit please. Because of my promised 1 hour free post-workshop coaching.
You can get the manuals before the training by sending an email to the company.
emeditelservices@gmail.com
Get all The 6 E-books with 3,500 naira only.
The Manuals Will Be Sent To Your Email & we take it up from their.