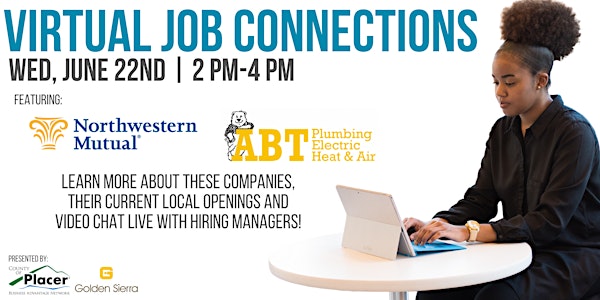 Job Connections - Northwestern Mutual & ABT Plumbing, Electric, Heat & Air
Virtual Job Connections - Northwestern Mutual & ABT Plumbing, Electric, Heat & Air
About this event
Are you interested to hear more about current openings and get priority access to hiring teams for these companies? Join us for Job Connections on Wednesday, June 22md at 2:00 pm.
Most people like to be a member of a family and a part of the team. At ABT Plumbing, Electric, Heat & Air that's what our employees experience. ABT is all about family. We're family owned and operated and have been for two decades. Our philosophy of business embraces the bonds, trust and loyalty found in the family unit and extends to our family of employees, clients and community. While we strongly value experience, your attitude and ability to think on your feet, communicate clearly and professionally, and your commitment to customer solutions are something that is valued and encouraged at our organization. Skills can be taught and mastered; attitude and enthusiasm while invaluable, weight just as heavily in our hiring decisions. As an ABT team member you'll enjoy: Top pay | Health Insurance | Paid Sick Leave | Paid Vacation | Excellent Work Environment
LIVE YOUR BEST LIFE. DO YOUR BEST WORK. Northwestern Mutual is investing in people. They're committed to empowering their teams and the individuals on them. Through championing work flexibility, encouraging curiosity, and investing in learning and leadership, they help employees plan and create their own futures.
Questions: Feel free to contact us via call/text: 916.530.9518 or 530.401.5921