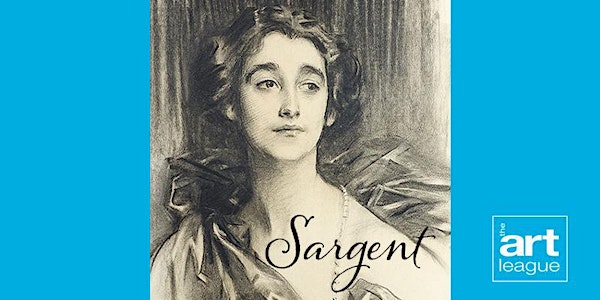 Joaquin Sorolla Murals and John Singer Sargent: Portraits in Charcoal | Jan 7
When and where
Location
The Morgan Library & Museum 225 Madison Avenue New York, NY 10016
Description
Joaquin Sorolla Murals and John Singer Sargent: Portraits in Charcoal

—TUESDAY, January 7, 2020—

Day Trip to the Hispanic Society of America to view Joaquin Sorolla's "Vision of Spain" murals and the John Singer Sargent: Portraits in Charcoal exhibit at the Morgan Library & Museum, NY City with Robert Liberace

In his book "John Singer Sargent: A Conversation Piece", Martin Birnbaum describes Sargent drawing a charcoal portrait of him:

"While talking, Sargent had been drawing rapidly, examining my features closely, at a distance of only three or four feet. Watching him at work, I was reminded of Paul Manship's little daughter Pauline, who on seeing Sargent make a pencil drawing of the sculptor, ran to Mrs. Manship and exclaimed, 'Mamma, Mr. Sargent is making a picture of father just like you would write a letter.' That exactly described his fluency and authority.

"Suddenly he stopped talking and showed me the charcoal drawing. He did not seem satisfied with it, — 'not very flattering, — a trifle unnatural, and rather Mephistophelian,' he commented. I, on the contrary, thought it was unduly youthful and complimentary and it showed that I had tried, without success, to look serious on this unique occasion. The scrutiny of the artist at such close range was more than I could stand, and I think he enjoyed catching my vain endeavor to be solemn."

---
The Hispanic Society of America in New York City has recently reopened following a two-year renovation project. As a result, Joaquin Sorolla's: Vision of Spain Gallery is once again open to visitors. It is here that his incredible mural series is displayed. The group will visit this wonderful Sorolla masterpiece. The bus will continue downtown to the Morgan Library where Sargent's: Portraits in Charcoal exhibit is displayed.
This is the FIRST major exhibition to explore John Singer Sargent's expressive Portraits in Charcoal.

The Art League is delighted to present a trip to New York to view this very special exhibition devoted exclusively to Sargent's portraits in charcoal. The show officially opens at the Morgan Library on October 4th and continues through the winter holidays.

John Singer Sargent (1856-1925)) was one of the greatest portrait and muralist artists of his time. Although he is best known for his magnificent portrait paintings (900 + in number) and watercolors (over 2,000), after 1907, he, for the most part, ceased painting portraits in oil and instead began to use the expressive media of charcoal to fulfill his portrait commissions. His mastery, as a portrait draftsman is revealed! In the last two decades of his life, he had created more than seven hundred charcoal portraits. This exhibition includes works on loan from private and public international collections and further reveals his networks of patronage and friendships with his celebrated clientele.

Richard Ormond, internationally-acclaimed art historian and author has curated this exhibit. He is also the former Director of the National Maritime Museum and the Assistant Keeper and late Deputy Director of the National Portrait Gallery. Currently, Mr. Ormond is the Chairman of the Trustees of the Watts Gallery, Chairman of the Friends of Leighton House and is a trustee of the Mariner's Museum in Newport News, Virginia. He is also the grandnephew of the artist, John Singer Sargent. Richard Ormond is the author of the artist's 'catalogue raisonne', which presents a new overview of Sargent's achievements as a draftsman. The exhibition catalog will be available for purchase at the Museum.

If time permits, visits to other galleries within the Morgan will be possible.
Spaces are limited. Bus will depart from the Torpedo Factory Art Center promptly at 6:15 am. Museum closes at 5:00, bus will depart shortly afterward. Expected return will be approximately 10:00-11:00 pm.
Day Trip Fee: $159 per person, includes prepaid Hispanic Society and Morgan entrance fees.


Included in fee:

Round-trip bus transportation to NYC, prepaid entrance fees to the Hispanic Society and the Morgan Library and Museum, tips and instructor fees.

Reasonable parking rate information will be available following registration.
Due to the special nature of this day trip, reservations are on a first-come, first-served basis and are nonrefundable. If you are unable to attend, we will make every effort to find someone to take your space, however, we are unable to guarantee this.
---