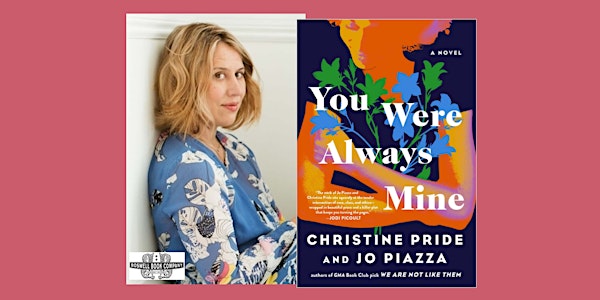 Jo Piazza, coauthor of YOU WERE ALWAYS MINE - an in-person Boswell event
Jo Piazza, author of YOU WERE ALWAYS MINE - an in-person Boswell event
Date and time
Starts on Friday, June 16 · 6:30pm CDT
Location
Boswell Book Company 2559 North Downer Avenue Milwaukee, WI 53211
About this event
Boswell Book Company presents an evening with Jo Piazza, coauthor of You Were Always Mine. In conversation with Bookstagrammer Liz Hein.
Cinnamon Haynes has fought hard for a life she never thought was possible. When she finds an abandoned baby in a park and takes the blonde-haired, blue-eyed newborn into her home, the ripple effects of this decision risk exposing the truth about Cinnamon's own past, which she's gone to great pains to portray as idyllic to everyone… even herself.
Nineteen-year-old Daisy Dunlap has her own big dreams for a life that's barely begun, and then she gets pregnant. Desperate, broke, and alone, she hides this development from everyone close to her and then makes a drastic decision with devastating consequences. These two women, unlikely friends and kindred spirits, must face down their secrets and trauma and unite for the sake of the baby they both love in their own unique way when the baby's grandparents, who would rather die than see one of their own raised by a Black woman, threaten to take custody.
From the starred Booklist review: "Like their first joint venture, We Are Not Like Them, the authors' latest is both a nuanced portrait of female kinship and a wider look at American society. It reads like your favorite show, offering entertaining escapism and satisfying cultural criticism all at once."
Jo Piazza is a bestselling author, podcast creator, and award-winning journalist. She is the author of many critically acclaimed novels and nonfiction books including We Are Not Like Them, Charlotte Walsh Likes to Win, and The Knockoff. A former editor, columnist, and travel writer, her work has also appeared in The Wall Street Journal, The New York Times, New York Magazine, and more. She holds an undergraduate degree from the University of Pennsylvania in economics and communication, a master's in journalism from Columbia University, and a master's in religious studies from New York University.
Click here to order your copy of You Were Always Mine from Boswell. Signed copies and personalization available on pre-orders. Please note that signed copies will not be shipped until after the event.