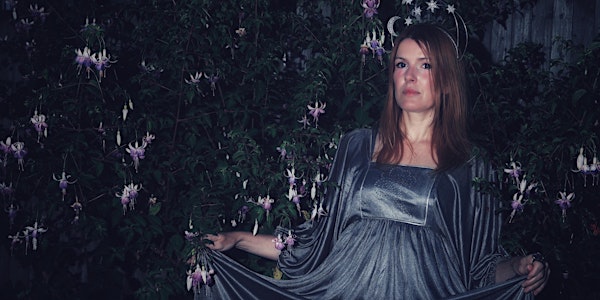 Jo Beth Young - Culture Night - Shadow Navigation Show.
Jo Beth Young performs an enchanted evening of Stories and Songs for Culture Night at the magical venue of Thoor Ballylee.
When and where
Location
Thoor Ballylee Yeats Tower Ballylee H91 D8F2 Gort Ireland
About this event
BOOKED OUT - ASK TO BE ON CANCELLATIONS LIST
This show is currently booked out but please email contact@jobethyoung.com to be put on the cancellations list for any places that may become available later.
"A voice that can only be described as like a Tolkein Elf, It is rich in harmonics, ethereal and just plain gorgeous!"
Fatea Magazine
Spend an enchanted evening in Yeats's Tower Home or Thoor Ballylee with internationally acclaimed Neo-Folk Singer/Songwriter Jo Beth Young and special guests for a customised concert of folk stories and songs. Especially for Culture Night and by kind invite of Thoor Ballylee this is a performance exploring themes of folk, wisdom, wild feminine archetypes and ancedote and promises to be a very special night.
Funded by The Arts Council, this event is free but places are extremely limited, so booking is required to ensure entry. Donations to Thoor Ballylee are warmly invited on the night or via the website here https://yeatsthoorballylee.org
(*The Tower has a policy of being as environmentally aware as possible and encourages car pooling to attend this event.)
Jo Beth Young's ethereal vocals and mesmeric haunting style coupled with her beautiful neo-folk songs have increasingly been enrapturing and provoking deep emotional response in both recorded and live audiences alike. Writing from a place of raw genuinity, the visionary singer/songwriter, producer and multi instrumentalist's poetically tangible world comes armed with lullabies and battle cries hand in hand. At times heartbreaking but always hopeful.
In 2018 her debut album 'An Abandoned Orchid House' (released under the pseudonym Talitha Rise) garnered international acclaim and support from BBC 6, BBC Introducing Devon, and the legendary ECHOES Radio in the USA who made her the number 1 album of the year. With unique world, folk and progressive sounds, her recordings and live performances have featured an incredible host of special guests including Chris Difford (Squeeze) Mike Rowe (Sheryl Crow) Martyn Barker (Shriekback, Robert Plant, Goldfrapp) and Juldeh Camara (Robert Plant) and were mixed by Bjork and Sigur Ros Engineer Addi 800 and Kevin Bolus.
After her second album 'STRANGERS' was released to critical acclaim in 2019 she decided to return to her 'spiritual home' of the West Of Ireland where she draws inspiration from the land. This will be her only live show of 2021 so be sure to catch her!
'Culture Night is brought to you by the Arts Council in partnership with Galway County Council'.
Jo Beth Young - https://www.jobethyoung.com
Thoor Ballylee | Yeats Thoor Ballylee Society https://yeatsthoorballylee.org