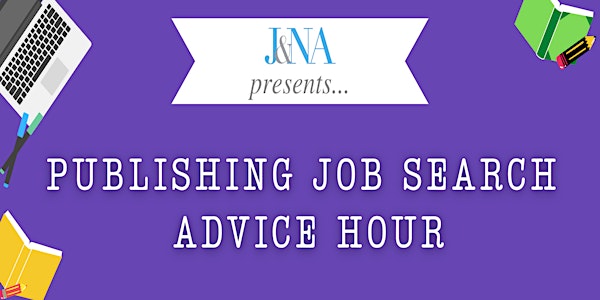 J&NA Presents: Publishing Job Search Advice Hour
Back by popular demand, JNA Presents is firing up the ol' Crowdcast account again to bring you more publishing info!
About this event
In our first open house series, we received so many brilliant questions about different aspects of the industry, but one big theme emerged: "How do I go about the job search?" Given all the interest in this topic, we're hosting three free events this fall, focused on how to start your publishing career. The J&N assistant crew will be here to answer all your questions about applications, resumes, cover letters, interviews, where to find job listings, and much more and to share our own stories of how we got to J&N.
This event is open to everyone, even if you didn't make it to our first open houses. We said we were just getting started in our efforts to make the publishing industry more transparent and accessible, and we meant it. We hope the info we provide in these new sessions will further demystify the process of getting one's foot in the door. Folks who are traditionally underrepresented in the industry are particularly encouraged to attend.
Here are the dates and times of each session:
– Wednesday, October 21, 8 PM ET
– Sunday, November 15, 2 PM ET
– Thursday, January 7, 8 PM ET
Submit your questions about the publishing job search to jnapresents@gmail.com anytime before the events. We'll begin each session by answering those questions and then open up the floor to a live Q&A!
As a little treat, here are a glossary of publishing terms and a resource list of websites, podcasts, newsletters, etc. to learn more about the book industry (download the files for the best viewing experience).