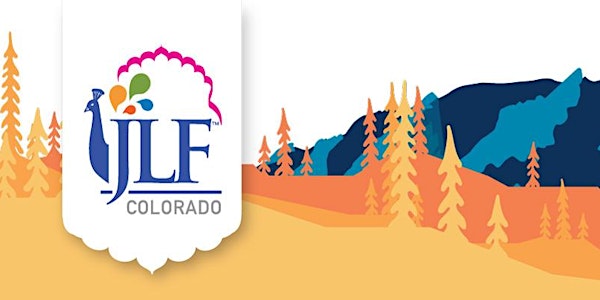 JLF Colorado 2020!
The "greatest literary show on Earth" returns to Colorado for our 6th edition-virtually! A festival of global literature--a cultural feast!
When and where
Location
Online streaming zoom Boulder, CO 80302
About this event
About this Event
JLF Colorado is HERE and we're ready to share with you the "greatest literary show on Earth! (Tina Brown)" Join us for our 6th Edition – virtually and streaming online with back-to-back sessions:
Sunday November 8 – Wednesday, November 11, 2020
Sunday November 15 – Wednesday, November 18, 2020
*All sessions are from 6:15 pm – 9:30 pm MST*
JLF is a literature festival unlike any other where you can experience the reflections and imaginations of distinguished contemporary authors from around the globe.
Your registration grants you FREE access to a uniquely multi-cultural festival. Sit in on conversations with Nobel Laureates, Pulitzer Winners, National Book Award Winners, including Mann-Booker and Samuel Johnson recipients. JLF is a festival full of ideas where intercultural conversations are centered on literature from around the world.
Below is a tentative peek at the Festival line-up, including noted poets and writers such as Franklin Cruz, Suzi Q. Smith, Erika Wurth, Jennifer Foerster, Diana Khoi-Nguyen, Layli Longsoldier, and many more:
• Yann Martel, Life of Pi, Booker Prize-winning and internationally renowned author
• Christophe Jaffrelot, President of the French Political Science Association and author
• David Abulafia, Mountbatten Literary Award-winning author, The Boundless Sea: Human History of the Oceans
• David Heska Wanbli Weiden, Colorado-based and multi-award-winning author of Winter Counts: A Novel
• Eric Cornell, Nobel Laureate in Physics
• Hussain Zaidi, Indian author and journalist
• Jo Nesbo, Norwegian writer, musician, economist, and former soccer player, author of The Snowman
• Kara Keeling, UCLA humanities academic and author of Queer Times, Black Futures
• Kim Ghattas, Dutch-Lebanese journalist and author of The Black Wave
• Nathalie Etoke, author and professor of Black French experience, Africana thought, and Queer studies in Africa and the Caribbean
• Nathalie Handal, award-winning author and poet
• Rheea Mukherjee, author
• Trevor Price, environmentalist
• The Venerable Tenzin Priyadarshi, philosopher, educator, and a polymath monk
• Vikram Chandra, renowned for Sacred Games
Join us for the camaraderie, the caravan of ideas, and the magical flow of conversation.
FREE access is always available. We kindly ask for your support with a 'Suggested Donation' ticket of $25. JLF Colorado wants to be here for you in 2021! All donations are greatly appreciated! For a complete schedule, please visit https://jlflitfest.org/colorado.