JLABS @ Toronto One Year Anniversary Special: Putting Canada on the Map

Thursday, May 11, 2017 from 9:00 AM to 1:30 PM (EDT)
Event Details


JLABS @ Toronto is celebrating our One Year Anniversary with two compelling panels that will tackle some key questions on how we can continue the success the past year has brought.

Canada has recently become home to global companies such as Autodesk, Johnson & Johnson, Bayer Inc. and LEO Innovation Lab. How can we keep this momentum going? For the first panel of the day, hear from the senior leaders of these companies about why they chose to expand to Canada, what success looks like for them, what problems have they found or foresee, and how we can work together to bring more global companies to Canada.

Next, we bring you five Canadian healthcare investors to discuss their different strategies. We will take a deeper dive into what needs to be done in order for Canada to continue to have healthcare technology success stories. The group will touch upon how we can support healthcare entrepreneurs better, what is and is not working and the gaps we need to fill in order for these early-stage companies to succeed.

Afterwards, we will celebrate our first year being in Toronto with a networking lunch. Participate in the discussion throughout the day using the #JLABSToronto hashtag on May 11th.


Agenda:
9:00 AM | Registration & Networking
9:30 AM | Why Canada Panel
10:30 AM | Networking Break
11:00 AM | Healthcare Investment Panel
12:00 PM | Lunch & Celebration
1:30 PM | Program Close


Why Canada Panelists:
Ramtin Attar | Head of Design & Social Impact & CTO- Autodesk Research, Autodesk, Inc. read bio»
Miron Derchansky | Head, LEO Innovation Lab read bio»
Alok Kanti | President & CEO, Bayer Inc., Canada read bio»
Rebecca Yu | Head of JLABS @ Toronto, J&J Innovation | JLABS read bio»
[moderator] Salim Teja | Executive Vice President, MaRS Discovery District read bio»

Healthcare Investment Panelists:
Ela Borenstein | Program Director, Market Development, BDC Capital read bio»
Lisa Boreanaz | Policy Lead, Industry, Office of the Chief Health Innovation Strategist, Ontario Ministry of Health and Long-Term Care read bio»
Anthony T. Cheung | CEO & President, ENGENE Inc. read bio»
Scott Kaplanis | Partner, Epic Capital Management Inc. read bio»
[moderator] Michelle McBane | Investment Director, MaRS Investment Accelerator Fund read bio»


Fees:
FREE | General Public
*Please RSVP to attend


Location:
JLABS @ Toronto
661 University Ave, Suite 1300
Toronto, Ontario


Panelists' Biographies:

Ramtin Attar | Head of Design & Social Impact & CTO- Autodesk Research, Autodesk, Inc.
Ramtin is a Sr. Principal Research Scientist at Autodesk Research and Head of Design & Social Impact Group. He plays a leading role in shaping Autodesk's presence within Canada's innovation ecosystem in addition to harnessing strategic projects that tackle complex challenges through cross sectoral collaborations. He has taught and lectured on design and technology at four Canadian Universities while holding an honorary Research Professorship at Carleton University.
Ramtin is a DiverseCity Fellow alumnus: The Greater Toronto Rising Leaders Project. An integrative thinker, city builder and social entrepreneur, Ramtin has a strong track record in spanning multiple domains of design, technology, education, and civic leadership. He is also the founder of Imagine My City; a non-profit organization that he is working to grow by helping important regional issues through collective leadership coupled with tools of imagination.
Connect with Ramtin:  

Miron Derchansky | Head, LEO Innovation Lab
Miron Derchansky is the head of LEO Innovation Lab in Canada, focusing on digital health solutions for people living with chronic skin conditions and beyond. Last year, deploying the 'lean startup' approach, the iLab built a portfolio of over 20 solutions in the telemedicine, medication adherence, mental health and diet & nutrition spaces.
Before joining LEO, Miron held multiple executive positions focused on strategy and innovation, including with LexisNexis Canada and Monitor Deloitte, where he helped Fortune100 companies, governments and entrepreneurs build and execute growth strategies.
Miron is also the founder of five startups in the neurotech, software and media space.
He holds an MBA and PhD from the University of Toronto.
Connect with Miron:  

Alok Kanti | President & CEO, Bayer Inc., Canada
Alok Kanti is the President & CEO of Bayer Inc. in Canada and was appointed to this role in August 2015. The organization is one of the country's leading healthcare companies, and has been recognized numerous times as one of Canada's Top 100 Employers, and one of Canada's Greenest Employers. Bayer Inc. is headquartered in Mississauga, Ontario and employs approximately 800 professionals from coast to coast.
Prior to this appointment, Mr. Kanti was the Managing Director of Bayer HealthCare China and Regional Head of Bayer HealthCare Pharmaceuticals China/Hong Kong for three years, based in Beijing, China. Over a span of 18 years, Mr. Kanti has risen up the ranks and been appointed in several key positions within the Bayer organization. Prior to China, Mr. Kanti was the Regional Head for Bayer HealthCare Pharmaceuticals Asia Pacific since January 1, 2010, based in its regional headquarters in Singapore.
Mr. Kanti has also worked as Head of Commercial Operations, at Intendis GmbH, a subsidiary of Bayer HealthCare specializing in dermatologicals based in Berlin for two years.
Mr. Kanti has spent seven years in Asia Pacific since July 2000: the first two years in the Philippines as Country Division Head for Bayer Philippines and the following five years in Singapore as the Head of Bayer HealthCare, South East Asia & Pakistan sub-region.
Mr. Kanti started his professional career with Bayer in June 1994 as an International Management Trainee with Bayer Inc. in Canada. Three years later, he took on the position of Assistant to Region Head, Regions of the World (ROW), within the Pharmaceutical division of Bayer AG, headquartered in Leverkusen, Germany. He then spent the next two years working on International Strategic Marketing based in Wuppertal, Germany.
Mr. Kanti obtained his Bachelors degree in Civil Engineering from University of Delhi in 1989 and his Masters degree in Business Management from the Asian Institute of Management in 1994.

Rebecca Yu | Head of JLABS @ Toronto, J&J Innovation | JLABS
Rebecca Yu is the Head of JLABS @ Toronto, Johnson & Johnson Innovation's first JLABS incubator outside of the United States. JLABS @ Toronto is a partnership with Johnson & Johnson Innovation, Janssen Canada, the University of Toronto, MaRS Discovery District, MaRS Innovation and the Government of Ontario. Rebecca is responsible for overseeing and managing the business of JLABS @ Toronto including setting its strategic direction. As the local J&J Innovation ambassador to the life science innovation community in Ontario, Rebecca will be catalyzing and supporting the translation of science and technology into valuable solutions for patients and consumers across J&J's sectors in pharma, medical devices and consumer healthcare.
Before assuming her current responsibilities at JLABS @ Toronto, Rebecca was Director, Strategic Health Technology Assessment (HTA) in the Government Affairs & Market Access with Janssen Canada. Rebecca spent 15 years in Health Policy, Medical Affairs,and Government Affairs with Solvay Pharma, Procter & Gamble, Servier and Pfizer. Prior to joining industry, she practiced as a Clinical Pharmacist at The Wellesley Hospital.
Rebecca is a graduate of the University of Toronto, Faculty of Pharmacy and is currently a pharmacist in Ontario. Rebecca was previously on the Board of Directors for the Markham Stouffville Hospital. She is currently a member of the Joint Steering Committee for the Neuroscience Catalyst Collaboration and on the Life Sciences Ontario's Board of Directors.
Connect with Rebecca: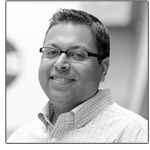 Salim Teja | Executive Vice President, MaRS Discovery District
Salim Teja is Executive Vice President for MaRS Discovery District (MaRS) where he leads the overall strategic direction of MaRS' four venture services areas: Health, Energy & Environment, Finance & Commerce and Work & Learning. He is an experienced entrepreneur and active early-stage technology investor with deep industry expertise in software and digital media.
Salim joined MaRS from Indigo Books & Music, where, as Vice President ofCcorporate Development, he drove the formation of the company's Digital Innovation Lab. He has also held roles as Partner with early-stage VC firm Brightspark Ventures, where he was the driving force behind investments, including Radian6 (recently acquired by Salesforce.com). He was also Co-founder and Vice President of Sales and Business Development for San Francisco-based MobShop Inc., a pioneer in online group-buying funded by GE Capital, Visa International, Mayfield Fund and Marc Andreessen.
Salim is a graduate of the University of Western Ontario's Richard Ivey School of Business.
Connect with Salim:  

Ela Borenstein | Program Director, Market Development, BDC Capital
Ela Borenstein is Program Director, Market Development at BDC Capital, focused on access to global-standard best practices, across the spectrum of venture capital providers in order to maximize chances of delivering the realized returns essential to the long-term health of Canada's VC industry. She first joined BDC in 2007 as an investor in early-stage life sciences companies and now has nearly 30 years of management, entrepreneurial and investing experience.
Prior to joining BDC, she was Chief Operating Officer at a VC-backed biotech and previously held the position of Vice President in clinical, regulatory affairs and product strategy for various companies, as well as Senior Vice President of Scientific Affairs for a company's successful IPO. Ela's diversified background includes senior management responsibilities in drug and medical device development as well as key involvement in product acquisition and M&A activities.
Ela is a Kauffman Fellow, a society for leaders in venture capital, and an advisor, mentor and guest lecturer with several organisations and Canadian universities.
Ela holds a Bachelor of Science in Chemistry from the University of Western Ontario, a Master of Science in Pharmacology from the University of Toronto and an MBA in Bio-Industries from Université du Québec à Montréal.
Connect with Ela:  

Lisa Boreanaz | Policy Lead, Industry, Office of the Chief Health Innovation Strategist, Ontario Ministry of Health and Long-Term Care
Lisa Boreanaz is MedTech professional with over twenty years of experience supporting the growth of the Canadian MedTech sector. Lisa is currently on assignment as a Policy Lead (Industry) with Ontario's Chief Health Innovation Strategist supporting the office's priority to optimize pathways to adoption and diffusion for innovative Ontario health technologies. Her previous roles include, seven years as an Industrial Technology Advisor (ITA) with the National Research Council-Industrial Research Assistance Program (NRC-IRAP), where Lisa assisted Canadian companies through all aspects of the innovation process from concept to commercialization. As part of the funding process, Lisa regularly conducted scientific and business due diligence on MedTech ventures across Canada. Prior to joining NRC-IRAP, Lisa worked for, and consulted with, some of the top medical device manufacturers where she held leadership roles in R&D, Manufacturing and Quality, and Regulatory Affairs.

Anthony T. Cheung | CEO & President, ENGENE Inc.
Dr. Anthony Cheung is the CEO and President of enGene, Inc. (Montreal, Canada). Prior to that, he served as the Chief Scientific Officer for the Company from 2004-2012, where he developed enGene's current platform technology for delivery of nucleotides to the gut. Dr. Cheung received his bachelor degree in Biochemistry from the University of British Columbia (Vancouver, BC) and doctorate degree in Physiology from the Tulane University School of Medicine (New Orleans, LA). Since his appointment as the CEO in 2012, Dr. Cheung has raised significant equity financing for enGene and completed two major pharma partnership transactions with Janssen and Takeda. Dr. Cheung has co-authored numerous book chapters, review articles and peer-reviewed journals on the topics of diabetes, gene therapy and autoimmune diseases. His research has been published in many prestigious scientific journals, including Science and Proceedings of the National Academy of Science. He has been invited to speak at many international scientific and biotechnology conferences - BIO, American Society for Gene & Cell Therapy, Diabetes Technology Meeting, Children with Diabetes - on topics related to gene therapy, drug development and bio-entrepreneurism. He also serves as Board Member and Advisor for several biotechnology companies and professional organizations including Bio-Industry Liaison Committee of the American Society for Gene & Cell Therapy
Connect with Anthony:  

Scott Kaplanis | Partner, Epic Capital Management Inc.
Mr. Kaplanis is a partner at Epic Capital Management Inc., a boutique investment firm. He joined Epic in 2008 and has been instrumental in spearheading the firm's Venture Capital strategy. Epic has built a leading Medical Technology and Digital Health franchise; to date, the firm has invested in 23 Canadian MedTech organizations, catalyzing more than $200 million in venture investment.
Prior to joining Epic, Mr. Kaplanis worked as an Equity Research Analyst at Macquarie Capital Markets (2003-2008). At Macquarie, he analyzed and published on companies in a variety of industries including IT, infrastructure, energy services and cleantech. Previously, Mr. Kaplanis worked in Equity Research at Scotia Capital where he followed companies in the enterprise software space.
Mr. Kaplanis is extremely active in the business community. He currently sits on two corporate boards, Memex Inc. (OEE.V) and QoC Health, emerging Canadian software companies. He has also been a part of key advisory committees making recommendations to government bodies on regional clustering, capital formation and social impact investing.
Connect with Scott:  

Michelle McBane | Investment Director, MaRS Investment Accelerator Fund
Michelle McBane is passionate about working with amazing technology entrepreneurs. As a Director at the MaRS Investment Accelerator Fund, she leads investments in early-stage technology companies. Michelle is a skilled business professional with over 25 years of combined operational and venture capital experience. Her background includes 15 years of venture capital investing early-stage companies as well as sales and marketing roles in both engineering and scientific industries. Since 2010, she has led over 20 investments in her role at IAF. Notable investments include Rubikloud, Figure1, Sampler, OMX, Nudge Rewards, Rank Software, gShift Labs and Profound Medical. Past exits include Cytochroma (acquired by OPKO) and Locationary (acquired by APPLE). Prior to IAF, Michelle was a venture investor with VG Partners and Primaxis Technology Ventures.
She is active in the technology community and is an advisor at the Biomedical Zone at Ryerson, a volunteer with the Next 36 and CIX and an instructor in the entrepreneurship department at Ryerson University
Connect with Michelle:  

Have questions about JLABS @ Toronto One Year Anniversary Special: Putting Canada on the Map?
Contact JLABS @ Toronto
When & Where

JLABS @ Toronto
661 University Ave
Suite 1300
Toronto, ON M5G 1M1
Canada

Thursday, May 11, 2017 from 9:00 AM to 1:30 PM (EDT)
Add to my calendar
Organizer
JLABS @ Toronto
Johnson & Johnson Innovation, JLABS (JLABS) is a global network of open innovation ecosystems, enabling and empowering innovators to create and accelerate the delivery of life-saving, life-enhancing health and wellness solutions to patients around the world. JLABS achieves this by providing the optimal environment for emerging companies to catalyze growth and optimize their research and development by opening them to vital industry connections, delivering entrepreneurial programs and providing a capital-efficient, flexible platform where they can transform the scientific discoveries of today into the breakthrough healthcare solutions of tomorrow. At JLABS we value great ideas and are passionate about removing obstacles to success to help innovators unleash the potential of their early scientific discoveries. JLABS is a no-strings-attached model, which means entrepreneurs are free to develop their science while holding on to their intellectual property. JLABS is open to entrepreneurs across a broad healthcare spectrum including pharmaceutical, medical device, consumer and digital health sectors. The JLABS flagship opened in 2012 in San Diego at Janssen's West Coast Research Center, and since then has grown to eight locations including the Bay Area, Boston & Lowell, MA, Houston, Toronto and a ninth location, New York City, launching in 2018. For more information please visit jlabs.jnjinnovation.com.
JLABS @ Toronto One Year Anniversary Special: Putting Canada on the Map