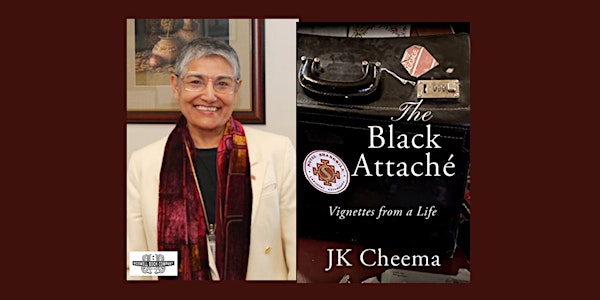 JK Cheema for THE BLACK ATTACHÉ - an in-person Boswell event
JK Cheema for THE BLACK ATTACHÉ - an in-person Boswell event
Date and time
Starts on Wednesday, July 12 · 6:30pm CDT
Location
Boswell Book Company 2559 North Downer Avenue Milwaukee, WI 53211
About this event
Boswell Book Company presents an evening with JK Cheema, author of The Black Attaché.
The Black Attaché is an irresistible blend of history, travelogue, and reflection that takes you on a journey from the childhood in India, where Cheema lived through the partition of India and Pakistan, nearly dying on the last train out of Pakistan during the riots, to her career as an American diplomat stationed in hardship posts around the world.
With honesty and warmth, Cheema describes her childhood memories and events from places like Kazakhstan, Armenia, and Burkina Faso, amongst others where she has lived and worked. This is a remarkable memoir by a remarkable woman, and nothing like anything you've read before.
Dr. Jatinder Cheema is the founder of A Place to Be and has over twenty-five years of experience as an international development expert. Born in 1942 to a Sikh family in Lahore, which is now in Pakistan, Cheema grew up during tumultuous times as World War II was raging as well as the movement to separate India and Pakistan in two countries. After completing her PhD, she worked as an independent consultant with international organizations. In 1990, she joined the United States Agency for International Development and served in Africa, Asia, Central Asia, Armenia, and Afghanistan. Cheema is now a resident of Madison, Wisconsin.
Click here to order your copy of The Black Attaché from Boswell. Signed copies and personalization available on pre-orders. Please note that signed copies will not be shipped until after the event.