Description
Unity Events presents a JJ Hairston and Youthful Praise COMMUNITY CONCERT!
Come and experience the dynamic sounds
of the
2018 Six-Category Stellar Award Winner,
JJ Hairston and Youthful Praise!
GOD. YOU Deserve It.
As we praise and celebrate God, we will pause to remember the contributions of Austin community leaders Billy F. Harden and Madame Orean Cosby.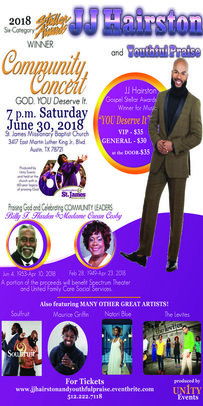 Billy Harden was one of the founders of Spectrum Theater - Austin's first African American theatrical companies.
Madam Orean Cosby, was a nationally-known gospel icon, singer/songwriter and Stellar nominee. She led the V. Michael McKay song, "Redeemed".
In April of 2018, we lost two community legends in Austin.
We thank God for their lives. We invite you to come celebrate.
--------
We will also hear the ministry of Claudia Williams and the St. James Mass Choir, the powerful yet angelic voice of Natori Blue, the extraordinary worship of The Levites, the anointed vocals of Maurice Griffin of Sunday Best Season 2 and the explosive high energy and contemporary sounds of Soul Fruit! More details to follow...
A portion of the proceeds of this concert go to support Spectrum Theater and the United Family Care Social Services organization, in memory of Billy F. Harden and to the family of Madame Orean Cosby.
For SPONSORSHIP OPPORTUNITIES - call 512-222-7118.