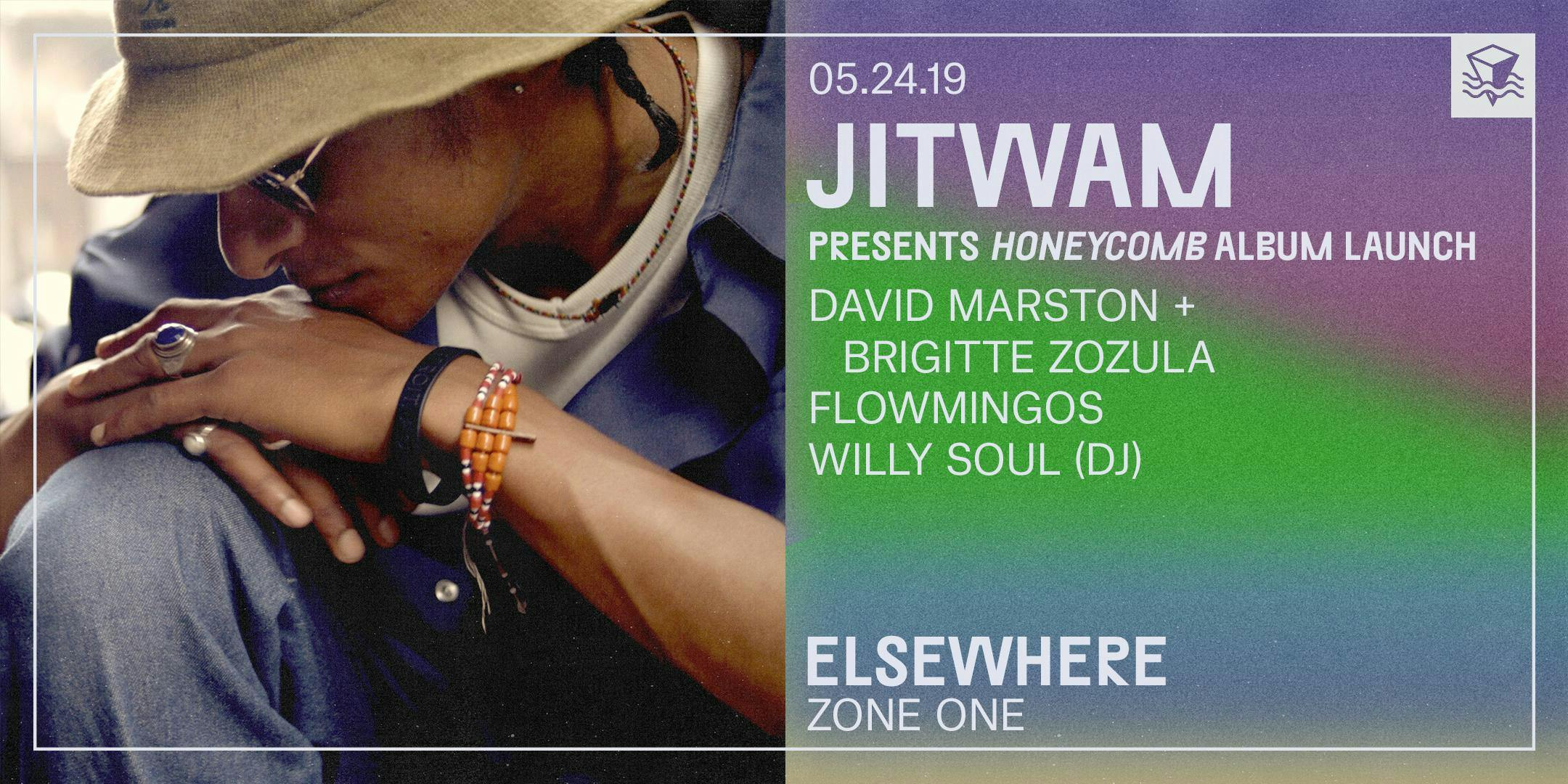 About this Event
Celebrating the launch of his sophomore album 'HONEYCOMB' via TARTELET RECORDS and !K7 Records, jitwam presents 'the free dream experience,' a sensory and aural journey through the inner beyond.
HONEYCOMB follows jitwam's well-received EPs on his own imprint, The Jazz Diaries, which secured him a spot on Moodymann's DJ Kicks compilation, as well as a steady string of gigs that took his talents from a country-wide NTS-Radio tour in India, to shows in Europe and the US, where he opened for legendary jazz-funk artist Roy Ayers.
└ Featuring support from the inimitable David Marston and Brigitte Zozula, whose debut album 'Feeling You' on Kindness of Bearer showcases Marston's versatility and dexterity as a producer and musician in all styles, and all flavas. Brigette, his long time collaborator will be joining him on vocals to usher in the late night, jazzy feels.
└ Also on the bill are the funky brass get downs of the Flowmingos, whose ecstatic brooklyn funk has captivated the dancing feet of both young and old. This marks the four piece's debut performance at Zone One at Elsewhere, after popping that funk from the streets on up.
└ Last but not least we have Willy Soul setting the mood with a selection of psychedelic funk and soul from bombay to bk. Having brought in the finest collectors at his monthly Funky Seshwa parties at Good Room and having supported the likes of Natasha Diggs and Rich Medina, you know the mood is gonna be right... so we gonna do it tonight.
jitwam has his roots in assam, india, was raised in australia, is currently based in brooklyn, and just released his jazzy r&b sophomore album 'honeycomb' via copenhagen label tartelet records. drawing from his experiences and "exploring the spaces in between," the producer, singer and multi-instrumentalist gained traction after landing a spot on moodymann's dj kicks compilation and a string of gigs across the globe including a support slot for legendary jazz-funk artist roy ayers. with support from david marston and brigitte zozula, funky brass four piece the flowmingos, and psychedelic funk dj willy soul, come celebrate the launch of 'honeycomb' with jitwam's 'the free dream experience.'
heads up y'all: this summer season, the Elsewhere Rooftop will be open all night on weekends space-permitting, so grab a frozen drink with a view of the skyline when you need a breather! make sure to check out our rooftop schedule below. 
there's always lots else to explore too! most nights are multi-room celebrations, featuring a dynamic lineup of local and international talent in the hall and zone one. if you haven't noticed already, our loft tucked into the 2nd floor now has its own dj booth and hosts free parties throughout the week. make sure to wander!
----
☼ About Elsewhere Rooftop
Elsewhere Rooftop is a seasonal large outdoor bar and events space, offering a signature frozen drink menu, shows & parties, sunset DJ sessions, food pop-ups, film screenings, art happenings, and much more all summer. Full calendar at https://bit.ly/2UMjRb3
☼ Hours
*The Rooftop usually opens at 6PM Monday through Friday and 2PM Saturday & Sunday, but is only open when events are happening — please do make sure to check our venue calendar before stopping by here: https://bit.ly/2VHNafy
☼ Food
Food is provided every Friday through Sunday this season by our good friends at Holy Ground BBQ, Brooklyn's tastiest BBQ pop-up. You can view the full menu here: https://bit.ly/2WHCB8J
☼ Rain or Shine Policy
All shows and events on the Rooftop are rain or shine! If the weather prevents us from carrying on, we will update customers via our website, Facebook, Instagram, Twitter, Eventbrite and Resident Advisor. 
☼ Safer Space Policy
ELSEWHERE MAINTAINS A STRICT ZERO TOLERANCE POLICY FOR HARASSMENT
Elsewhere is intended to be a safe space to enjoy music, art, expression, and free play. Our staff are trained to remove individuals engaging in any form of sexual harassment, acts of aggression (including leering), racism, misogyny, transphobia, homophobia, religious bigotry, or hatred and discrimination of any kind.
If you see or experience any unwanted attention, contact, bullying, harassment, or behavior of any kind that makes you uncomfortable, please speak out and notify our staff immediately.
Please read our full policy at: https://bit.ly/2VxByad