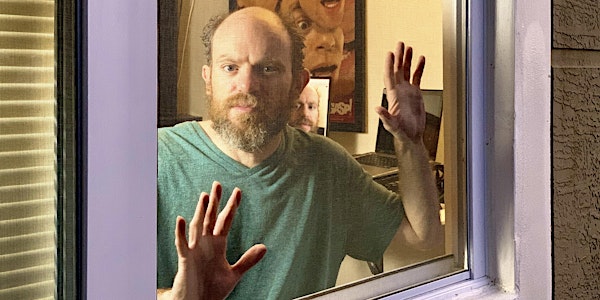 Jitsi Meet performance of #txtshow (on the internet)
Description
This event has been created due to COVID-19.
------------------------------
***THIS IS AN ONLINE EVENT. PLEASE CLICK OR SCROLL DOWN TO CHECK YOUR LOCAL VIEWING TIME***
This may or may not work.
It only took a global coronavirus pandemic to finally convince acclaimed American performance artist Brian Feldman to stage one of his most famous performances online, for the first and possibly only time!
#txtshow (on the internet) is a completely interactive two screen performance, in which all participants actively use Twitter and videoconferencing (either on a laptop, desktop computer, mobile phone, tablet, or smartwatch) to watch a mysterious character named txt (pronounced 'text') recite anonymous*, real-time tweets written by *you.*

Although there've been *many* variations on this concept in online spaces, Brian's signature performance #txtshow is still the original IRL, premiering way back in February 2009 at The Jack Kerouac Project of Orlando. Since then, it's been performed in cities across the country and around the world, but never for an entirely dispersed online audience – until now.
While the coronavirus outbreak is an extremely challenging time for all people around the world, Brian remains an eternal optimist. He looks forward to the day we can all gather in person once again, and hopefully sooner than September 2021 (predicted development time for a vaccine).
Don't have a Twitter account for some reason? That's okay! You don't need one. Everyone who registers for the performance will be emailed a one-time use login for a protected and anonymous Twitter account to use during it. (For this performance, if you plan to watch from your phone or tablet, you can download the Jitsi Meet mobile app on the App Store or Google Play.)
Based entirely upon what participants write in anonymity*, #txtshow (on the internet) may contain mature themes, profane language, and explicit sexual content.
*Since for this performance Brian will be personally sending each participant their one-time use Twitter login information, in order to maintain anonymity –
which is key
– everyone is asked to please delete this information immediately following the performance. Brian will be doing the same on his end. tvym for your
respect!
------------------------------
When Is It?
7:30 PM EDT (UTC−04:00)
6:30 PM CDT (UTC−05:00)
5:30 PM MDT (UTC−06:00)
4:30 PM PDT (UTC−07:00)
3:30 PM AKDT (UTC−8:00)
1:30 PM HST (UTC−10:00)
------------------------------
Where Is It?
Jitsi Meet
(Meeting name will be sent to all registered participants)
------------------------------
How Much Is It?
Feel Free* (to participate online)
*As in, feel free to give something following the performance. That is, if you've still got a job in these crazy times.
------------------------------
Hashtags: #txtshow #TheaterFromHome

------------------------------
"
#txtshow
delivers all the breathless, anything-can-happen anticipation and nervous laughter of an improv show, but without any of the pressure to make a funny that makes a crappy improv troupe so agonizing to watch. Like a sex party, it was both exhilarating and exhausting, and it seemed to work best when we all synced our wavelengths. But at times, it was even more fun to just sit back and watch."
"The concept is simple: Feldman reads aloud any anonymous tweets sent to him by the audience. The results are often as thought-provoking as they are silly — much like Feldman himself."
"It's like a livestream at a conference, with everyone responding in real time to whatever is happening. With all of the thematic links between the tweets, it's sometimes tough to believe that Feldman isn't reading them out of order to emphasize the relatedness of some of the topics. He swears that he reads them as he receives them."
"The best part is when audience members begin "intervening" in the relationships of other audience members... Which, of course, sends the first-row couple in question bursting into laughter."
"Grab your smartphone and warm up those fingertips because this is your chance to share – or even better, have spoken aloud by a local notable – pretty much any random, opinionated or outlandish thought you can imagine."
(Aimee Shea, Orlando Weekly)
"Yes, you heard right! YOU make the "script!" Brian doesn't utter a word unless it comes to him via his phone, from the audience. As I'm sure you can guess, a concept like this can lead to a very entertaining show!"
(Erica Finlay, AMPlified Culture)
"
#txtshow
= AMAZING!!!! @brianfeldman put on a great, great show."
"I found myself laughing louder than ever at this performance. The uninhibited mind is a strange and quirky beast...
#txtshow
[is] a Mad Lib with an emphasis on Mad."
"Thx @BrianFeldman for the great
#txtshow
. Encouraging tweeps to see it."
"Combined with some hilarious requests, the end result is an absurdist satire, which is never once alike. Which is why, although Feldman has been performing the show since 2009, it never gets old. In fact, he insists that it is much more relevant in today's world than it was when the show was conceptualised."
"Like a lot of performance art, it's an idea that sounds silly until you're in the middle of it, feeling the energy of the room shift and morph as each member of the audience reacts to each other, like a Ouija Board planchette moving under everyone's fingers. Pro tip: Bring your phone charger."
"
#txtshow
held up a mirror, and in it we see the promise of instant total communications, and how it will kill us all, unexpectedly."