Event Details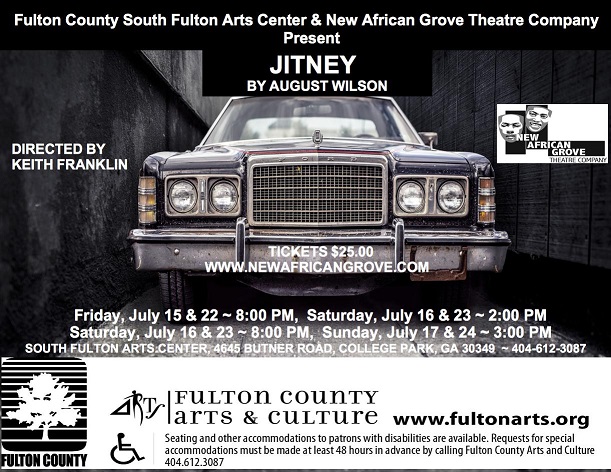 Regular cabs will not travel to the Pittsburgh Hill District of the 1970s, and so the residents turn to each other. Jitney dramatizes the lives of men hustling to make a living as jitneys—unofficial, unlicensed taxi cab drivers. When the boss Becker's son returns from prison, violence threatens to erupt. What makes this play remarkable is not the plot; Jitney is Wilson at his most real—the words these men use and the stories they tell form a true slice of life.
Join New African Grove Theatre Company as it continues its journey through August Wilson's American Century Cycle.  This is the eight (chrhonologically) play in the cycle and NAG's eighth August Wilson production.  Don't miss this episode of the most amazing project in American Theatre history!
When & Where

South Fulton Arts Center
4645 Butner Road
College Park, GA 30349


Organizer
New African Grove Theatre Company
New African Grove Theatre Company is a community theater founded to encourage African-American participation and involvement in all aspects of theatrical production. Its mission is to provide a nuturing work environment for artist, encourage diverse culture, and increase public awareness of African-American theatre contributions. It carries on the spirit of the first African-American theater company in the United States, the original African Grove company, established by free blacks in 1821 in New York City.