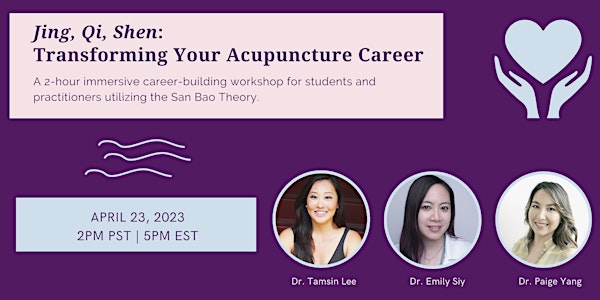 Jing, Qi, Shen: Transforming your Acupuncture Career
A 2-hour immersive career-building workshop for students and practitioners utilizing the San Bao Theory.
By Dr. Emily Siy, Dr. Tamsin Lee, & Dr. Paige Yang
Date and time
Sunday, April 23 · 2 - 4pm PDT
About this event
In this 2-hour interactive workshop, learn the importance of the San Bao Theory concepts of Jing, Qi, and Shen as it relates to your professional growth as practitioners of East Asian Medicine and Acupuncture. This workshop will include organized breakout groups with exercises to help you feel more empowered about your career. Choosing to be an EAM practitioner is more than just choosing a career because you want to help people. With knowledge of this medicine we have the ability to make a larger impact.
Hear from Dr. Tamsin Lee, Dr. Emily Siy and Dr. Paige Yang about their unique professional paths. Gain insights on what these three practitioners wish they knew, would have done differently, and what is the best career advice as it pertains to their personal journeys within the East Asian Medicine field.
In this workshop, you will learn —
Align you with higher purpose and be more successful in this career path.
Understand the significance of finding deeper meaning and intention when it comes to building your practice
Practical real-life career advice from each speaker — what I wish I knew and what I would have done differently
Thought-provoking exercises and prompts to discover your deeper connection to this medicine through TCM theory
Collaborative and supportive environment
Includes
Recording with access for 90 days
PDF slides
Personal email support for 3 months with additional guidance, motivation, and tools to integrate the workshop experience
About your facilitators
Dr. Tamsin Lee is driven by their belief that wellness is a basic human right. They fuse their multifaceted professional background in film, medicine, research, and education along with their personal practice in Daoism, to build creative spaces for people to navigate their everyday trauma with radical compassion.
Dr. Emily Siy is a first generation Chinese American. She is a clinic owner, licensed acupuncturist and herbalist in NYC's Chinatown. Dr. Emily has had experience in marketing, graphic design and community organizing.
Dr. Paige Yang owns and operates an integrative wellness clinic in Honolulu. She is also a brand founder and passionate about inspiring others to have reverence for Chinese culture and the practices that have been born from both the medicine and culture.
This event will be recorded and all slides will be shared.
Early bird pricing $200, after 04/09/2023 registration will be $250.