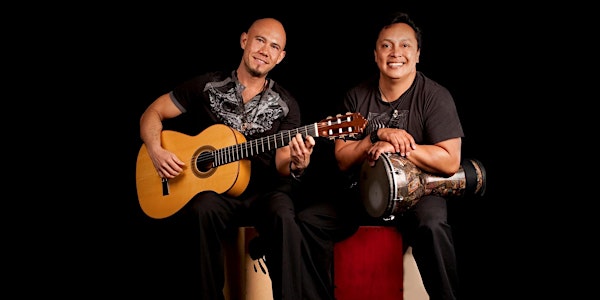 Jimmy Patton & Enrique Platas, Gaby Aparicio, Shakedown String Band
Location
Athenaeum Music & Arts Library
1008 Wall Street
San Diego, CA 92037
The Acoustic Evenings series at the Athenaeum showcases some of the finest acoustic musicians in San Diego. Three acts fill each program.
About this event
Friday, November 4, 2022 at 7:30 PM
The Acoustic Evenings series at the Athenaeum showcases some of the finest acoustic musicians in San Diego. Three acts fill each program and attentive audiences delight in the intimacy of the unplugged storytelling format. Refreshments are available at the intermission reception and post-concert meet-and-greet. San Diego Music Hall of Fame founder Jefferson Jay curates and hosts the concert series. The project advances the Athenaeum's commitment to support diverse San Diego talent. Acoustic Evenings is an unforgettable and personal experience for San Diego music lovers.
Jimmy Patton and Enrique Platas
Guitarist Jimmy Patton and percussionist Enrique Platas have combined their talents to form this award-winning duo. Their music can be described as having an international flair as they incorporate flamenco, Middle-Eastern, salsa, calypso, Brazilian, and other world rhythms into their compositions and arrangements. Jimmy and Enrique's musical collaboration has given creation to their unique, fiery world-music style that has captivated audiences from all over. Listeners will experience virtuosic guitar passages accompanied by exotic percussive rhythms, which together produce a sound that will grab your soul.
Gaby Aparicio
Gabriela Aparicio has her family roots in Uruguay. When she moved to San Diego in 2014, she began to bring her bilingual background to her writing. Gabriela likes experimenting with sound in her solo appearances, and she also loves playing with her band, La Buena Onda.
Shakedown String Band
Hailing from the laidback shores of Ocean Beach in San Diego, CA, Shakedown String Band is rapidly garnering attention with their contagious blend of Americana, Soul, and Bluegrass. A traditional interpretation of "string band" may mislead you; while the core of the sound relies heavily on vocal harmonies and soaring melodies, the momentum is powered by tight drums and percussion that leave no mistake about the groove. SSB is most known for their danceable, upbeat sound and their ability to fluctuate between a duo all the way up to a 9 piece party band with musicians spanning all generations.
The band's debut album In the Key of OB was nominated for "Best Americana Album" at the 2019 San Diego Music Awards. They have recently shared the stage with nationally touring acts Hot Buttered Rum, Dead Winter Carpenters, and Kitchen Dwellers. Highlights from their first regional tour include Live at Lakeview, Lost Sierra Hoedown, and winning Battle of the Bands at Huck Finn Jubilee.
The concerts will be in person at the Athenaeum Music & Arts Library. There are no physical tickets for these events. Your name will be on an attendee list at the front door. Doors open at 7 p.m. Seating is first-come; first-served. These events will be presented in compliance with State of California and County of San Diego health regulations as applicable at the time of each concert. Face coverings are optional. Proof of vaccination or negative test within 48 hours of the event is required. Event capacity is limited to 70% for now.