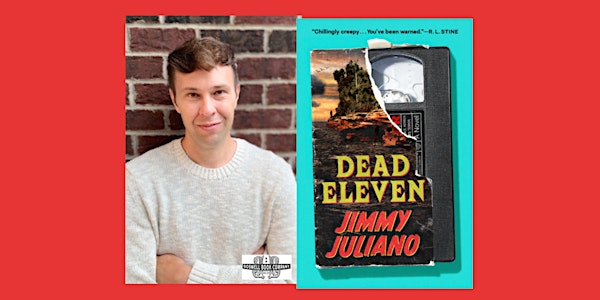 Jimmy Juliano, author of DEAD ELEVEN - an in-person Boswell event
Jimmy Juliano, author of DEAD ELEVEN - an in-person Boswell event
Date and time
Starts on Friday, July 28 · 6:30pm CDT
Location
Boswell Book Company 2559 North Downer Avenue Milwaukee, WI 53211
About this event
Boswell Book Company presents an evening with Jimmy Juliano, author of Dead Eleven.
Clifford Island. When Willow Stone finds these words written on the floor of her deceased son's bedroom, she's perplexed. She's never heard of it before, but soon learns it's a tiny island off of Wisconsin's Door County peninsula, 200 miles from Willow's home. Why would her son write this on his floor? Determined to find answers, Willow sets out for the island. After a few days on Clifford, Willow realizes: this place is not normal. Everyone seems to be stuck in a particular day in 1994: they wear outdated clothing, avoid modern technology, and, perhaps most mystifyingly, watch the OJ Simpson car chase every evening. Five weeks after Willow arrives on the island, she disappears. Willow's brother Harper comes to Clifford searching for his sister, and when he learns the truth—that this island is far more sinister than anyone could have imagined—he is determined to blow the whole thing open. If he can get out alive…
From RL STine: "Very creepy. Dreadfully creepy. Chillingly creepy. Horrifically creepy. You've been warned." and Booklist adds: "Juliano comes as a new voice in horror, perfect for fans of Stephen King, Grady Hendrix, and Paul Tremblay."
Jimmy Juliano is a writer and high school educator. Several of his stories have gone viral on the Reddit "NoSleep" forum, and his debut novel Dead Eleven is currently in development at A+E Studios.
Click here to order your copy of Dead Eleven from Boswell. Signed copies and personalization available on pre-orders. Please note that signed copies will not be shipped until after the event.