Jimmy Fortune, HighRoad & The Sneed Family: Reserved Seating

Friday, September 8, 2017 from 5:30 PM to 7:00 PM (CDT)
Event Details
Performance Starts at 7 PM CST.
Doors open at 6 PM CST.
Reserved Seating: $20 Advance, $30 at the door
Jimmy Fortune has performed in all of the U.S. States, in Canadian Provinces, and in front of audiences as large as 100,000. He was part of the Statlers' annual Happy Birthday USA celebration in Staunton, Virginia, for 14 years. He also sang on many of the Statlers' gold, platinum, and double platinum recordings. Jimmy's career included The Nashville Network's popular "The Statler Brothers Show" which aired for seven seasons and debuted in 1991 as the highest rated show for the network. Jimmy was privileged to perform at the White House on two occasions, once for President Ronald Reagan, and once for President George H. W. Bush. He also presented a special gift to actress Elizabeth Taylor by singing his song "Elizabeth" to her for a birthday celebration.
Jimmy and The Statler Brothers were inducted into the GMA (Gospel Music Association) Hall of Fame on October 29, 2007, and inducted into the CMA (Country Music Association) Hall of Fame on June 29, 2008.

It's not only a scripture that beautifully encapsulates Sarah's own journey but the ordained path of her band, HighRoad, as well. A gifted pianist and vocalist, behind the scenes Sarah often lends her talents to a veritable who's who of leading country artists. She played with iconic Country Music Hall of Famer George Jones' band on his final tour of Canada; has shared the stage with current chart-topper Chris Young; and she recently performed on the Grand Ole Opry with ACM Award-winner Mark Wills, among numerous other opportunities. But it's the acclaimed ensemble Sarah founded in 2010 that is clearly the passion closest to her heart.
"I love playing for other artists, but at the same time, I've always felt called to do Gospel music," she shares. "When HighRoad first started, it awakened this part of me I didn't even know God had in mind." Since the group's genesis, Sarah and bandmates Kristen Bearfield (mandolin, guitar, banjo, vocals), Kinsey Kapfhammer (guitar, vocals) and Lauren Conklin (fiddle) have already garnered six SGM Scoops Diamond Award nominations and an Absolutely Gospel Music Female Group of the Year award. They regularly perform at leading Gospel music events including the Gatlinburg Gathering, Myrtle Beach's Singing In The Sun and the National Quartet Convention.
The Sneed Family began its gospel music journey in 1982 as "Glory Bound" with four young men just out of High School. The group was founded by Jeff Sneed. Jeff met and married Pam Saylors who has become the predominant staple in the current group. Today they are living the dream night after night with their family, singing the songs that change lives. From early beginnings in a small Kentucky town, this group has flourished into their own niche. The Sneed Family has 100 percent become a family affair, rising to national success in such a short period of time. 

In early 2008 The Sneed Family launched a brand new Christian Television Show called "Glory Bound Jubilee" seen in over 1 million homes each week. The Glory Bound Jubilee is a branch off of The Sneed Family's road ministry, which goes into venues and churches across the country showcasing many of the testimonies of our Christian faith. The Show also brings the faces of Gospel music into the homes of believers and non-believers alike. The Sneed Family believes that this show is their part of the Great Commission.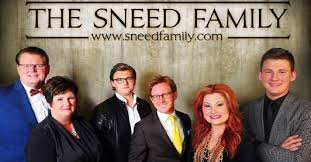 Venue map / Cave City Convention Center
70020028
Reserved Seating
1
#ffbc32
When & Where

Cave City Convention Center
502 Mammoth Cave Street
Cave City, KY 42127


Friday, September 8, 2017 from 5:30 PM to 7:00 PM (CDT)
Add to my calendar