Description
Date: Wednesday January 17, 2018

TIme: 7:00 PM to 8:30 PM
Location: Westfax Brewing Company

Address: 6733 W. Colfax Ave, Lakewood CO 80214
Join us for a fun evening of tabletop croquet. 16 people will compete for the grand prize -- a private croquet party on the lawn of the Denver Croquet Club. Your team of two could be the lucky ones!

Why participate?
Jiminy Wicket's Through Hoops to Hope school program connects students and seniors through regular games of croquet. 100% of your registration fee supports the work of the Jiminy Wicket Foundation.

Our tabletop croquet league is a fundraiser to support the expansion of our Through Hoops to Hope program in cities and schools across the county. Not only will you have fun but you'll make a difference in the lives of the young and old. Thank you for playing!

What does Jiminy Wicket do?
66% of Americans in long term care receive an average of just one visit per year from a friend or family member. They are isolated and lonely.

We train and equip high-school and college students to play croquet indoors with the residents of a local senior community. These outings for the elderly, every two weeks, create connection, laughter and smiles across the generations.
Our award winning Through Hoops to Hope service/learning program is always played indoors on artificial turf taking weather out of the equation. We can play in the heat of summer and the chills of winter. We include people with walker frames and wheelchairs all year long.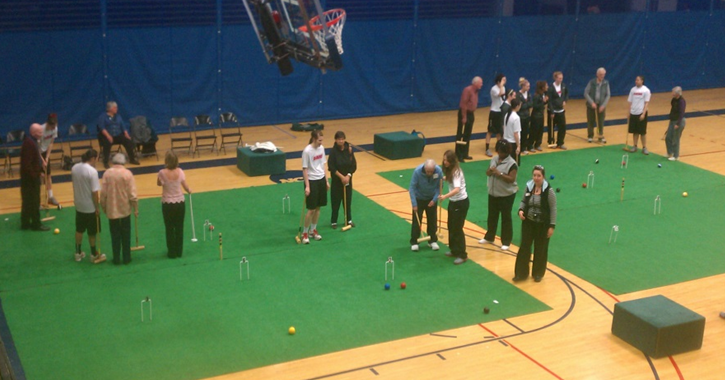 Through Hoops to Hope is a low-cost, high-benefit program engaging people with a wide range of cognitive and physical abilities. Playing together creates connection and well-being! Croquet is the most age-friendly, gender-neutral game in the world. Everyone goes home with a pocketful of smiles!